Registered Employers
Log on below

Need to talk to your National Account Executive?
1-877-562-7678 or email cs@jobsinlogistics.com




JobsInLogistics.com is the # 1 Logistics Job Board
We are the top choice for Employers and Recruiters who register to use our services to target qualified candidates for jobs in Logistics, Supply Chain, Transportation, Freight Forwarding, 3PL, Distribution, Purchasing and Manufacturing.
Click here to VIEW VIDEO
80% Unique Candidates on JobsInLogistics.com
Based on a study performed to compare resumes of logistics candidates on JobsInLogistics.com with the major generalist job boards, 80% of highly qualified candidates in the resume database on JobsInLogistics.com were not found on these generalist boards.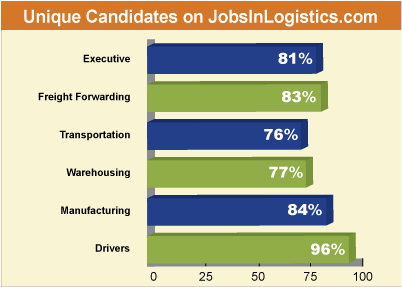 Logistics Focused Marketing Program
TRADE MAGAZINES
JobsInLogistics.com advertises logistics career opportunities in leading Logistics Magazines read by logistics professionals.

Inbound Logistics, Logistics Management, Traffic World, Air Cargo, Food Logistics, Canadian Transportation and Logistics, Materials Management and Distribution, etc.

ASSOCIATION RELATIONSHIPS
International Association of Employment Web Sites, WERC, American Society of
Transportation and Logistics (AST&L), Supply Chain & Logistics Association (SCL).

CROSS POSTING TO LEADING WEBSITES
Cross posting to TopUSAJobs.com and Indeed.com - The leading job board search engines as well as to other selected career boards. Featured in top positions on leading search engines such as Google, Yahoo and MSN for 1000's of industry specific keyword searches.

Keyword Examples on Google:

'logistics jobs' - #1 out of 20.3 million

'distribution jobs' - #1 out of 108 million

'transportation jobs' - #1 out of 61.4 million

'logistics careers' - #1 out of 4.7 million

'distribution careers' - #2 out of 20.9 million

Please note: Daily results may vary.

RESULTS
Expose your job openings to qualified, experienced logistics candidates per month and faster recruitment with a greater return on your investment (ROI).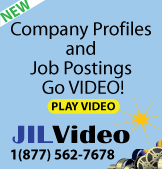 POST LOGISTICS JOBS

JobsInLogistics.com is the most widely used job board for Logistics recruiting.

Register and purchase job postings.



SEARCH RESUMES

Find top quality Logistics candidates. Search hundreds of thousands of Logistics candidates' resumes. Register and try our

Free Resume Search Preview.