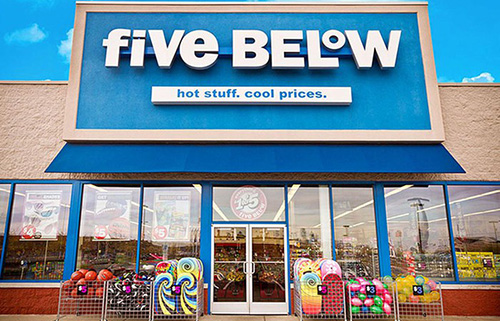 Distribution Center Sr Lead


Company Description:

Founded in 2002, Five Below (NASDAQ: FIVE) is a rapidly growing specialty value retailer offering a broad range of trend-right, high-quality merchandise targeted at the teen and pre-teen customer. Five Below offers a dynamic, edited assortment of exciting products, all priced at $5 and below, including select brands and licensed merchandise across a number of category worlds: Style, Room, Sports, Tech, Crafts, Party, Candy and Seasonal (which we refer to as "Now"). Five Below's dynamic assortment of merchandise includes everything from sporting goods, games, fashion accessories and jewelry, to hobbies and collectibles, bath and body, candy, snacks and beverages, room décor, stationery and school supplies, books, cell/tablet accessories, novelty and "gag" items, and seasonal items. Five Below believes it is transforming the shopping experience of its target demographic with a unique merchandising strategy and high-energy retail concept that their customers consider fun and exciting.

Five Below has reinvented the traditional five-and-dime for today's younger generation, and has launched a new retail category. At Five Below, "Whatever You Got Will Buy A Lot."

As of 2013, Five Below's sales will exceed $500 Million with 304 stores in 19 states. We are experiencing tremendous success and growth. Our corporate offices are based in Center City Philadelphia.

Five Below was founded by David Schlessinger, creator and founder of Encore Books and Zany Brainy along with Tom Vellios, former CEO of Zany Brainy, and current CEO of Five Below.

Job Summary:

The Lead provides directions for approximately 15-35 non-exempt associates in the Department within the facility. The Lead drives the performance of the Department to ensure optimum levels of productivity and quality while maintaining a safe work environment for all associates.

Job Responsibilities:

Prioritize workflow and communicate priorities effectively

Examine work for accuracy, neatness, and timeliness, to conform to policies and procedures

Evaluate standards, procedures and processes to improve efficiency of workers

Identify workload for all areas of responsibility and reassign associates based on priority

Ensure adherence to proper work methods and best practices

Monitor daily, weekly, and monthly production goals

Ability to lead change in a fast paced work environment

Effectively coordinate and communicate with all support areas

Actively promote an environment and culture focused on customer service, safety, diversity and teamwork

Manage a safe workplace by advocating safety training, lead the facility in safe and efficient operation of all equipment
Qualifications:
Demonstrated leadership, problems solving, and interpersonal skills preferably in a distribution environment

Adept in collecting and analyzing data to formulate recommendations for process improvements.

Excellent organizational skills and ability to handle multiple priorities and tasks in a dynamic work environment

Ability to communicate clearly and effectively in all situations

Flexibility to work varied hours to include weekends as business needs warrant

Minimum 3 years' experience in supervisory experience

Ability to apply common sense to prioritize workflow

Ability to add, subtract, multiply and divide all units of measure
INTERNAL Qualifications:
Associate must meet qualifications on Job Description.

Associate must be in current role for a minimum of 6 months for consideration.

Associate needs to be in "good standing":


Last performance evaluation > 3.0 (if applicable)

No current verbal or written counseling in process.
Five Below is an Equal Opportunity Employer
Apply Below