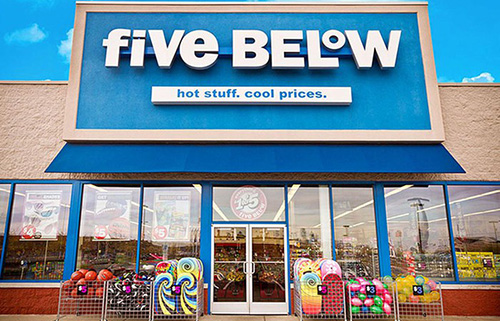 Inventory Equipment Operator


COMPANY DESCRIPTION:

Founded in 2002, Five Below (NASDAQ: FIVE) is a rapidly growing specialty value retailer offering a broad range of trend-right, high-quality merchandise targeted at the teen and pre-teen customer. Five Below offers a dynamic, edited assortment of exciting products, all priced at $5 and below, including select brands and licensed merchandise across a number of category worlds: Style, Room, Sports, Tech, Crafts, Party, Candy and Seasonal (which we refer to as "Now"). Five Below's dynamic assortment of merchandise includes everything from sporting goods, games, fashion accessories and jewelry, to hobbies and collectibles, bath and body, candy, snacks and beverages, room décor, stationery and school supplies, books, cell/tablet accessories, novelty and "gag" items, and seasonal items. Five Below believes it is transforming the shopping experience of its target demographic with a unique merchandising strategy and high-energy retail concept that their customers consider fun and exciting.

Five Below has reinvented the traditional five-and-dime for today's younger generation, and has launched a new retail category. At Five Below, "Whatever You Got Will Buy A Lot."
As of 2013, Five Below's sales will exceed $500 Million with 304 stores in 19 states. We are experiencing tremendous success and growth. Our corporate offices are based in Center City Philadelphia.

Five Below was founded by David Schlessinger, creator and founder of Encore Books and Zany Brainy along with Tom Vellios, former CEO of Zany Brainy, and current CEO of Five Below.

Qualifications:

Ability to lift up to 70 pound boxes

Ability to stand, stoop, lift and perform manual dexterity

Ability to work on exposed temperatures; cold in the winter and hot in the summer

Fork truck/reach truck /rider walkie experience

Knowledge of physical inventory process helpful

Reasonable accommodations may be made to enable individuals with disabilities to perform the essential functions of the job
Internal Qualifications:
Associate must meet qualifications on Job Description.

Associate must be in current role for a minimum of 3 months for consideration.

Associate needs to be in "good standing":

Last performance evaluation > 3.0 (if applicable)

No current verbal or written counseling in process.
Job Responsibilities:
Support the shipping department and receiving departments as needed

Load and unload shipments safely and move product to assigned locations or containers. Efficiently stack and store the merchandise in the appropriate areas.

Execute put away tasks via RF gun

Execute replenishments tasks via RF gun

Ensure inbound and outbound shipments are accurate and free of damage. Report quality variances.

Use radio frequency equipment for picking, receiving, put-away, replenishments and load functions, as required

Maintain the facility's equipment and materials in a neat, clean, and orderly fashion. On a daily basis, inspect the forklift or other equipment.

Operate all equipment in a safe and efficient manner following prescribed work methods

Communicate and interact with manager to rectify problems, such as damages, shortages, and nonconformance to specifications

Ability to add, subtract, multiply, and divide in all units of measure, use of calculator helpful

Ability to maintain proper staging, label placement etc…

Performing additional duties as assigned
Five Below is an Equal Opportunity Employer
Apply Online Below