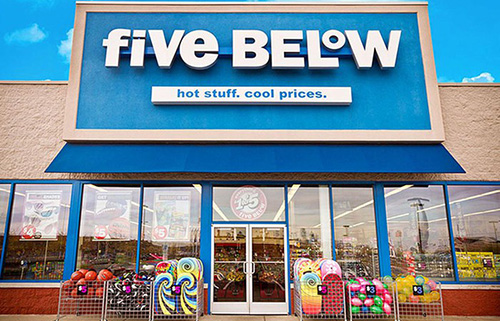 Straight Truck/Yard Switcher


Company Description:

The Philadelphia-based company is one of the fastest growing retailers in the country with over 650 stores in more than 30 states. The Company expects to cut the ribbon on approximately 125 new stores this year, on top of opening more than 100 stores in 2017. Catering to teens, pre-teens and their parents, Five Below carries an ever-evolving and exciting assortment of cell phone cases and chargers, remote control cars, yoga pants, graphic tees, nail polish, footballs and soccer balls, tons of candy and seasonal must-haves for Easter, Halloween, Christmas and more. Everything, everyday, is just $5 and below. Its stores are a vibrant, colorful and high-energy destination. Five Below products are grouped into one of eight in-store worlds: Style, Room, Sports, Tech, Crafts, Party, Candy and Now. Five Below's unique assortment features leading brands such as Lego®, Wilson®, Hasbro™ and Peeps® and hot licenses from Disney® and Marvel® such as Frozen, Despicable Me, Avengers and Star Wars™. Rounding out the assortment is merchandise packed with quality and value made exclusively for Five Below.

Five Below was founded in 2002 by David Schlessinger, creator and founder of Encore Books and Zany Brainy along with Tom Vellios, former CEO of Zany Brainy, and current Chairman of Five Below. In early 2015, Joel Anderson, the former CEO of WalMart.com, was named CEO and President of Five Below. The Company (NASDAQ: FIVE) has achieved astounding growth, including a current string of 37 consecutive quarters of positive comparable stores sales growth (from Q2, 2006 to present).

Five Below is poised to grow rapidly driven by a unique approach to targeting the teen and pre-teen customer with an edited assortment of trend-right, high quality merchandise that fosters universal appeal. With a highly differentiated shopping experience that delivers exceptional value within the $1-$5 pricing model, customers have a deep appreciation for the brand. There is a long runway for growth with compelling and consistent store performance backed by an experienced and passionate senior management team.

Qualifications:

Two years clean driving record, no violations.

Experience with store deliveries and has worked as a switcher with trailer yards of 100 trailers or more.
Job Responsibilities:
Able to manage inside pallet jack deliveries and inbound store scanning.

BOL's and POD's of all deliveries

Daily truck inspections

Manage our yard through our Yard Management System with inbound and outbound updates.

Taking direction from both receiving and shipping departments.

Directing all inbound drivers on placement of the equipment

Hourly Yard Checks
Five Below is an Equal Opportunity Employer
Apply Below