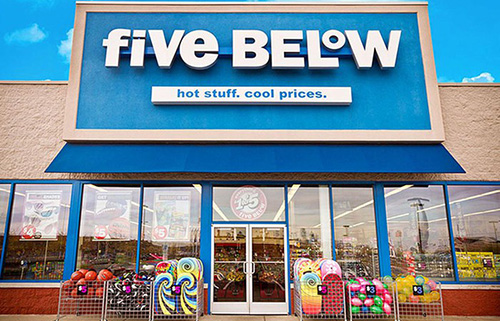 Merchandising Operations Manager


Company Description:

Founded in 2002, Five Below (NASDAQ: FIVE) is a rapidly growing specialty value retailer offering a broad range of trend-right, high-quality merchandise targeted at the teen and pre-teen customer. Five Below offers a dynamic, edited assortment of exciting products, all priced at $5 and below, including select brands and licensed merchandise across a number of category worlds: Style, Room, Sports, Tech, Crafts, Party, Candy and Seasonal (which we refer to as "Now"). Five Below's dynamic assortment of merchandise includes everything from sporting goods, games, fashion accessories and jewelry, to hobbies and collectibles, bath and body, candy, snacks and beverages, room décor, stationery and school supplies, books, cell/tablet accessories, novelty and "gag" items, and seasonal items. Five Below believes it is transforming the shopping experience of its target demographic with a unique merchandising strategy and high-energy retail concept that their customers consider fun and exciting.

Five Below has reinvented the traditional five-and-dime for today's younger generation, and has launched a new retail category. At Five Below, "Whatever You Got Will Buy A Lot."

As of 2017, Five Below's sales exceeded $1 Billion with over 600 stores in 32 states. We are experiencing tremendous success and growth. Our corporate offices are based in Center City Philadelphia.

Five Below was founded by David Schlessinger, creator and founder of Encore Books and Zany Brainy along with Tom Vellios, former CEO of Zany Brainy.

Position Overview

The Merchandising Operations Manager will play an integral part on the Distribution team. This role will work in conjunction with various areas of the organization to streamline and improve the flow of merchandise through the distribution network. Focus will be maintained on improving operational efficiency and service to our stores.

Responsibilities of this position include (but are not limited to):

Work in conjunction with various areas of the organization to analyze and implement programs to improve efficiencies within the supply chain.

Maintain and audit the vendor chargeback program to support improvements in packaging and load configuration to promote the improved flow of merchandise.

Manage relationships with Merchandising, Supply Chain, Planning & Allocation, Distribution Operations, Transportation, and Store Operations.

Support the maintenance of the routing guide and vendor compliance manual.

Participate on cross-functional projects that serve to reduce cost, improve efficiency, quality, and service.

Play an integral role in short-term as well as long-term capacity planning to support the distribution network.

Seek innovative methods to increase cube utilization within the distribution and transportation network.

Ability to prioritize and escalate issues effectively.

Ability to communicate effectively to all areas of the organization.
Qualifications:
Bachelor's Degree preferred

At least five (5) years of experience in merchandising, planning, allocation, distribution, or supply chain management.

Experience in supporting the distribution of merchandise within a retail environment.

Experience in working with various systems that support merchandising and distribution.

Detail oriented individual with strong time management skills

Experience with desktop systems (Excel, Access, and Word)

Advanced analytical skills

Strong written and verbal communication skills
Internal Qualifications:
Associate must meet qualifications on Job Description.

Associate must be in current role for a minimum of 3 months for consideration

Associate needs to be in "good standing":

No current verbal or written counseling in process.
Apply Below