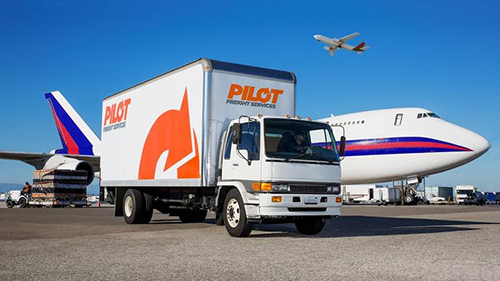 Pilot Freight Services seeks a
full-time Dispatcher
to work
the day shift
at our
Indianapolis, IN office. Hours will be from 730 AM to 4nsibilities:
Notify or communicate with customers when issues arise or appointments are necessary;
Coordinate pick-ups, deliveries and recoveries for multiple drivers/routes;
Communicate with other Pilot offices;
Communicate with outside vendors;
Responsible for creating drivers' routes.
Qualifications:
Must be extremely detail-oriented, multi-tasking is a must!
Strong verbal and written communication skills;
Must be computer literate;
Familiarity with dock operations;
Prior air freight forwarder or other transportation experience desired;
Knowledge of central Indiana geography;
2 years dispatching experience preferred.
Competitive wages and benefits package, including 401K.
If you are interested in this opportunity, please click one of the "Apply" buttons above. The application process only takes about 10-15 minutes.
An Equal Opportunity Employer
It is the policy of Pilot Air Freight to consider all applications for any position without regard to a person's race, color, religion, national origin, sex, age, disability, veteran status, marital status, sexual orientation or genetics.
#jil
QualificationsBehaviorsTeam Player:
Works well as a member of a group
Leader:
Inspires teammates to follow them
Detail Oriented:
Capable of carrying out a given task with all details necessary to get the task done well
MotivationsFlexibility:
Inspired to perform well when granted the ability to set your own schedule and goals
Ability to Make an Impact:
Inspired to perform well by the ability to contribute to the success of a project or the organization
Growth Opportunities:
Inspired to perform well by the chance to take on more responsibility
Self-Starter:
Inspired to perform without outside help
Education
High School or better.
Licenses & Certifications
FORK LIFT
SkillsProficiency in written & verbal communication
Advanced
Forklift
Intermediate
EXCEL INTERMEDIATE
Intermediate
Experience2 year(s):
2+