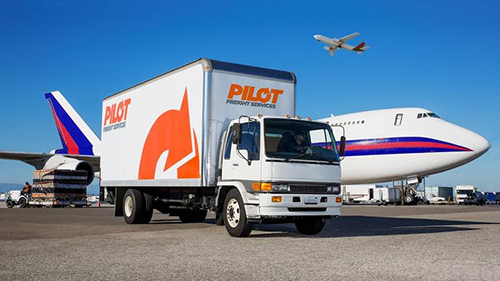 Pilot Freight Services - Last Mile
is seeking an
Operations Supervisor
to complement our embedded management team located within a large distribution center in the
Philadelphia, PA a
rea providing last mile
home delivery service
for a major retail customer.
The Home Delivery operations supervisor will report directly to the embedded Last Mile Home Delivery Operations Manager, but will work closely with Pilot team members and the DC partners throughout all stages of the regional delivery service. He/she will be responsible but not limited to; order routing, contractor scheduling/route management, and customer service performance. The operations supervisor in tandem with the manager be responsible for daily planning, organizing, controlling and managing the over-all operations of loading, delivery, and return orders.
The operations supervisor must excel in a
HIGH VOLUME HOME DELIVERY OPERATION
. This person must be one who can execute to a prescribed process in the most efficient manner, and communicate effectively. They must be able to thrive in a fast paced, highly dynamic, and customer service driven work place environment. Bilingual in Spanish is a bonus skill.
Education:
This position requires a High school diploma or equivalent (G.E.D.), a certificate/degree in transportation or logistics would be a plus.
Experience:
This position requires one to three years related work experience in truck routing duties, phone based customer service relations and above average situational problem solving.
Requirements:
Experience working collaboratively with the management and operations personnel of distribution center and independent contractor driving teams.
A great willingness & capacity to learn company specific operating systems
Familiarity with the use of transportation management software is a plus specifically Dispatch Track.
Proficient with Microsoft Office software, such as Excel
Ability to analyze, interpret general information and write reports
Must have basic knowledge of DOT driving regulations, CSA, and HOS requirements
Interpersonal skills balanced with demanding leadership skills focused on creating a culture of respect and a culture of high performance
Must be able to multi-task, be organized, efficient, accurate and accountable to job responsibilities
Be flexible in ability to adjust work schedule based on operational requirements.
Ability to communicate in English a must, with Spanish being a major plus.
Physical Qualifications:
Ability to lift a minimum of 50 lbs.
Ability to sit, stand, walk and complete repetitive tasks for complete shift
QualificationsBehaviorsDetail Oriented:
Capable of carrying out a given task with all details necessary to get the task done well
Team Player:
Works well as a member of a group
Enthusiastic:
Shows intense and eager enjoyment and interest
Dedicated:
Devoted to a task or purpose with loyalty or integrity
MotivationsGoal Completion:
Inspired to perform well by the completion of tasks
Self-Starter:
Inspired to perform without outside help
Flexibility:
Inspired to perform well when granted the ability to set your own schedule and goals
Ability to Make an Impact:
Inspired to perform well by the ability to contribute to the success of a project or the organization
Education
Associates or better in Logistics /Supply Chain Management or related field.
High School or better.
Licenses & Certifications
Driver License
SkillsCritical Thinking Skills
Intermediate
Business Communication Skills
Intermediate
Attention to Detail
Intermediate
Ability to Work Under Pressure
Intermediate
Customer service experience
Intermediate
Experience1-3 years:
Communications with customer service issues
1-3 years:
Experience working within the independent contractor delivery team model
1-3 years:
Experience in truck routing duties