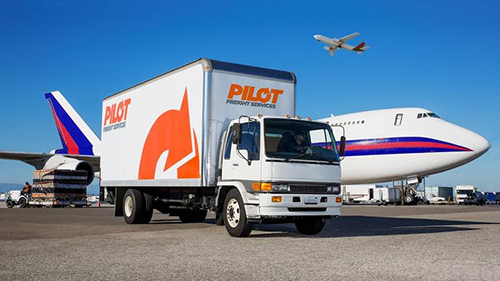 Pilot Freight Services
is searching for a dynamic
Home Delivery Operations Manager – Embedded Solutions
in the Union City, CA. area. We have a rare opportunity for a behind-the-scenes logistics position. The Operations Manager is embedded in the operation and dedicated to being the best; to standing at the line of action and taking charge of a busy operation and making sure that teams on the front line are sharp and committed to excellence. You will oversee the team to fine tune processes, support the P&L expectations and decisions, and ensure that customers get the kind of treatment you demand for yourself. This is a high volume operation that calls for hyper-attentiveness to detail always, the ability to communicate clearly, set expectations, and lead with passion.
Our customers are appliance, fitness and electronic brands who expect a superior home delivery event for their clients.
If this is how you live and want to work, then we want to hear from you right now
.
What We Offer
A competitive benefits package, 10 paid holidays, and 2 weeks paid time off in the first year.
A tuition reimbursement plan where employees are encouraged to continue their education and development opportunities.
A winning culture and rewards success through our year-end bonus program.
Essential Duties & Responsibilities:
Develop a solid understanding of the business scope under Pilot Freight.
Assist in the recruitment and development of staff and Independent Contractors.
Ensure that practices, policies and procedures are enforced and consistently implemented.
Schedule and participate in negotiations with Vendors, Contractors and Service Providers to secure best value/service standards are met.
Assist in development of the plan of staffing needs for budgetary establishment purposes.
Active involvement in learning and reviewing P&L performance ensuring decisions and practices coincide with budgetary goals.
Actively review key performance measurements and ensure process improvement strategies are identified and incorporated.
Conduct monthly meetings and training sessions designed to inform and improve upon performance of staff members and Independent Contractors
Provide for the protection, maintenance, safety, security, and custody of company assets, assuring careful and diligent use thereof.
Evaluate staff and Independent Contractors performance – expanding, modifying and/or abandoning strategies and/or tactics as necessary, based on conclusions reached.
Establish effective communication and relationships with customers to ensure performance measurements and goals are understood and achieved, and that new business opportunities are capitalized upon.
Develop, recommend, and manage annual operation budget, by working actively in the budget process with the Regional Manager.
Drive initiatives that contribute to long-term excellence.
Responsible for compliance with Local, Federal and State legislation pertaining to personnel, equipment, and vehicle matters.
Coordinates, resolves, and responds to issues as they pertain to the Operations Performance.
Monitoring Quality Control Scores and addressing scores with Independent Contractors
Organize and maintain Independent Contractor files.
Other duties and tasks as assigned.
Education and Experience
High School Diploma, GED, or equivalent required. Four (4) year college degree in Business, Supply Chain Logistics, or related field preferred. Minimum of five (5) years' experience in the transportation, logistics, or related industry required. Previous experience managing a team required. Valid state driver's license required. Bi-lingual in Spanish preferred.
QualificationsBehaviorsFunctional Expert:
Considered a thought leader on a subject
Leader:
Inspires teammates to follow them
Dedicated:
Devoted to a task or purpose with loyalty or integrity
MotivationsSelf-Starter:
Inspired to perform without outside help
Flexibility:
Inspired to perform well when granted the ability to set your own schedule and goals
Ability to Make an Impact:
Inspired to perform well by the ability to contribute to the success of a project or the organization
Education
Associates or better in Logistics /Supply Chain Management or related field.
Licenses & Certifications
Driver License
SkillsProficiency in written & verbal communication
Advanced
MS Office Suite
Advanced
EXCEL INTERMEDIATE
Intermediate
Customer service experience
Advanced
Experience3-5 years:
Supply chain experience in transportation, distribution and/or freight management