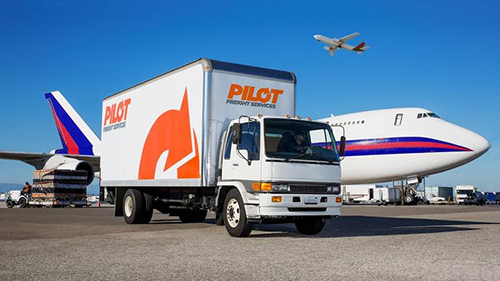 Pilot Freight Services
is seeking
a full-time Account Representative
to work in our
Orlando, Florida office. T
he hours for this position are 09:00 AM to 17:30 PM, Monday through Friday.
JOB SUMMARY:
Responsible for the revenue growth of customers in a defined geographic territory; services all current customers and uncovers prospective opportunities for new business; works with the local and corporate management sales teams in developing new business.
RESPONSIBILITIES:
Work with the District Manager and corporate sales teams to increase the wallet share of existing
customers and uncover new opportunities to pursue and close.
Stay current on all the products and services offered. Attend training classes to further expand your
knowledge and proficiency.
Interact regularly with local management and develop close and cooperative working relationship with
operations staff to ensure the customer's needs are met.
Develop a sales budget from the bottom up for your designated territory. Project the trends of current clients along with new opportunities from your list of target accounts
Ensure that a flow of sales leads are constantly coming into the territory: work with drivers,
Daily telephone prospecting and regular in person cold calls are expected.
Build long lasting, mutually beneficial relationships with internal departments to help create a better customer experience
Follow-up with new clients and operations to ensure a seamless integration when onboarding new clients.
Present and demonstrate our value proposition to prospective buyers.
Participate in any promotional programs that are developed by Marketing: attend local marketing customer events with key clients
Schedule and conduct a predetermined number of face-to-face sales calls as directed by regional and local management team;
Utilize Salesforce or the current CRM program to build a database of key information for your territory.
Track new opportunities and work with management to secure new customers
QUALIFICATIONS
:
Must have a proven track record in sales, preferably transportation and logistics
Excellent verbal and written communication skills
Ability to work in a team environment
Team sell with the various corporate subject matter experts (SME's)
Must be computer literate in Word, Excel, PowerPoint and Salesforce CRM
Some local travel involved
High School Diploma required, college degree preferred
QualificationsBehaviorsInnovative:
Consistently introduces new ideas and demonstrates original thinking
Detail Oriented:
Capable of carrying out a given task with all details necessary to get the task done well
Team Player:
Works well as a member of a group
Dedicated:
Devoted to a task or purpose with loyalty or integrity
Enthusiastic:
Shows intense and eager enjoyment and interest
MotivationsFinancial:
Inspired to perform well by monetary reimbursement
Goal Completion:
Inspired to perform well by the completion of tasks
Entrepreneurial Spirit:
Inspired to perform well by an ability to drive new ventures within the business
Education
Bachelors or better.
High School or better.
Experience2 year(s):
\u003e Must bring book of business of existing customers that may be transferrable to PILOT