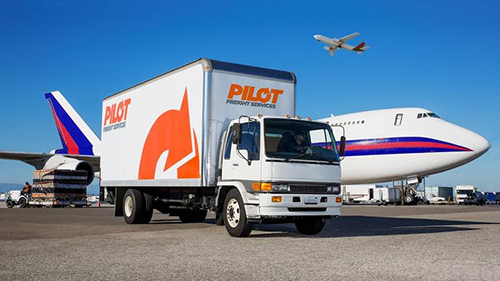 Pilot Freight Services seeks
a
full-time Logistics Manager
to work at our
Northlake IL, location
to be the key driver of all major target opportunities for national and larger local customers. Position plans, develops, costs, implements, assists in Sales development and manages Logistics Projects. This position identifies external and internal candidates for hiring and advancement within the department. Candidates can be domiciled anywhere near a major airport.
ESSENTIAL FUNCTIONS:
- Consults with management and project team leads/members to determine implementation scope
and dates
- Produce and maintain project plans for all levels of implementation tasks necessary to meeting the
project scope including across the organization resource coordination
- Responsible for providing updates to Management and all project team leads/members on project
status
- Work with the project teams to identify and resolve issues around project related items that
potentially jeopardize any of the project dates identified
- Manage the project team resources including internal and external resources to ensure tasks are
kept on track and completed in the required timelines
- Conduct, document and publish minutes for regular project team meetings to ensure the teams are
focused and on track with activities and schedules
- Use each and every project assign to his or her responsibility to build a culture of efficient and
effective Project Management within the organization throughout all business areas
- Assist with the development of a Project Management Office for Pilot
- Assist in developing project management skills and techniques within additional staff
- Develop a Project Costing mechanism to assign costs to internal resources (staff and other) to
produce realistic budgets and costs for projects
- Assist with preparing and providing necessary project information to support the Pilot Freight
Services IT strategy
- Maintain effective communication with all areas within Pilot Freight Services
- Work with cross function organization teams to ensure the coordination of resources for
technology projects and that all services have needed information regarding the implementation of
technology
- Other duties as assigned
SKILLS/COMPETENCIES
Strong technical abilities, ability to research and solve problems with little to no guidance
Must have routing and operations experience
Must have warehouse and WMS system experience
Must be self-motivated and detail-oriented
Must be detail-oriented with excellent verbal and written communication skills;
Results orientation with the ability to balance many projects with other business considerations
Well-developed interpersonal and leadership skills
Excellent presentation skills to high-level audience
Proven ability to produce results in an environment that requires a strong independent work ethic with little supervision and a drive for results
Proficient in Microsoft products
Friendly and approachable personality
Must be motivated and adaptable
EDUCATION:
Bachelor's Degree or Greater in Logistics (5 years experience in lieu of degree)
High school diploma or equivalent required
EXPERIENCE
4+ years management experience in freight
4+ years experience in Sales Experience
4+ years experience in Logistics Experience and Management
PHYSICAL REQUIREMENTS:
This is a hybrid position which can require extensive clerical and administrative time sitting at a desk on a computer, and sometimes extensive physical labor based on the current demands on the department. Position requires regular air travel, potentially sitting in a cramped environment for several hours or changing planes in busy terminals during peak times with minimal gate-change time.
TRAVEL: