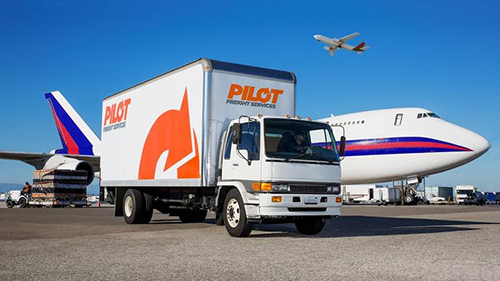 Pilot Freight Services
seeks a
full-time Warehouse Agent 2
to work out of our
Orlando, FL
location. Candidate will increase operational efficiency, company profitability, and customer satisfaction by accurately and safely receiving and storing materials, as well as picking, packing, and scanning orders for pickup and delivery
.
This shift will be
10:00am - 6:30pm with mandatory rotating on-call on nights/weekends/holidays for additional compensation.Responsibilities:
Accurately count and document inventory and locations
Receive shipments, log into inventory, maintain inventory through audits, check and update product labeling, processing customer shipments per customer requirements
Report any quality or inventory discrepancy issues to the supervisor / customer when required
Operate a forklift safely and efficiently, maintain required certification, perform vehicle safety checks and report discrepancies to supervisor
Assist in keeping facility clean, neat, safe and operating efficiently.
Assist in keeping facility secure and aligned with established safety requirements
Maintain inventory balances and location proficiency in computerized systems and other technologies as required (eWMS & Oracle) which includes data entry and scanning information into those systems.
Follow company policies and procedures
Other duties as assigned by supervisor / manager
Qualifications:
Accuracy and attention to detail
Oracle experience preferred 2-3 years, ability to learn Pilot WMS system
Previous Dangerous Goods (DG) shipping and prior certification preferred
Recognizes and understands product numbers and alpha/numeric codes
Operates forklifts in compliance with Occupational Safety & Health Administration (OSHA) requirements
Understands basic inventory, warehousing, and stocking procedures
Able to work independently with some direction
Capable of following written instructions and documented procedures
Ability to lift 50-60 lbs repetitively and up to 120 lbs with assistance
2-3 years Forklift experience
Good communication skills and neat in appearance;
Must have a High School Diploma or equivalent;
Working weekends and on-call after hours is required on a rotating basis
EDUCATION:
High School or equivalent required
EXPERIENCE:
Previous warehouse experience preferred - 1 years experience
Competitive wages and benefits package, including 401KPHYSICAL REQUIREMENTS:
This position requires standing and walking for extended periods of time. Position requires employees to frequently stoop, kneel, crouch, use hands, reach, bend and lift objects above their head. Employees must be able to regularly lift/move up to 50 pounds unassisted and use pallet jacks and forklifts.
An Equal Opportunity Employer
It is the policy of Pilot Air Freight to consider all applications for any position without regard to a person's race, color, religion, national origin, sex, age, disability, veteran status, marital status, sexual orientation or genetics.
QualificationsEducation
High School or better.
Licenses & Certifications
FORK LIFT
SkillsForklift
Advanced
Sit down counterbalance forktruck
Intermediate
MS Office Suite
Novice
Experience2-3 years:
Forklift experience operating reach / stand-up forklift 2-3 or more