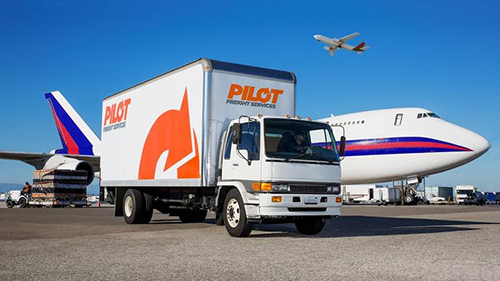 Pilot Freight Services
is seeking an
Operations Manager
for our
Orlando FL location
. The position requires some flexibility in work hours,
Monday through Friday
.
JOB SUMMARY:
The Operations Manager monitors all operations including, but not limited to; Process shipments, prepare paperwork, communicate freight status and dispatch drivers for pick up. The manager will be the primary interface between Pilot Freight Services, customers, sales, system operations and vendors and provide quality customer service, while meeting company policies and procedures. The Manager will provide training, complete performance reviews, and issue disciplinary action when necessary.
Essential Functions:
Deployment of staff to complete assigned workloads.
Training and developing of staff for local cross-functionality.
Control and organization of the local warehouse and cartage operations.
Control of work hours and performance reviews for the operations staff.
SKILLS/COMPETENCIES:
Customer service background preferred
Ability to read key elements of financial statements in support of functional role responsibilities
Excellent communication and interpersonal skills
Must have superior organizational and time management skills
Must be approachable and motivated
Knowledge of systems utilized as it relates to logistics
Proficient knowledge of Microsoft Office
Ability to thrive in a high-pressure environment
Detail oriented and analytical
Understands TSA regulations
Strong problem solving abilities
EDUCATION:
Bachelor's Degree in Business is a plus
High school diploma or equivalent required
5 years experience in lieu of degree
EXPERIENCE:
Minimum of five (5) years in Operations Management, preferably in transportation and logistics
Experience with DOT regulations
Proficient in Microsoft Office and ERP systems
3 years: Routing and Operations Experience
PHYSICAL REQUIREMENTS:
This is a clerical administrative position in a professional office setting. The employee is frequently required to sit. Occasionally stand, walk, use hands, stoop, bend and reach. Extensive use of a phone and a PC is required. Position may require to work remotely at times.
QualificationsBehaviorsDedicated:
Devoted to a task or purpose with loyalty or integrity
Team Player:
Works well as a member of a group
Enthusiastic:
Shows intense and eager enjoyment and interest
MotivationsAbility to Make an Impact:
Inspired to perform well by the ability to contribute to the success of a project or the organization
Goal Completion:
Inspired to perform well by the completion of tasks
SkillsFlexibility
Advanced
Decision Making Skills
Advanced
Ability to Work Under Pressure
Advanced
Defining Problems
Advanced