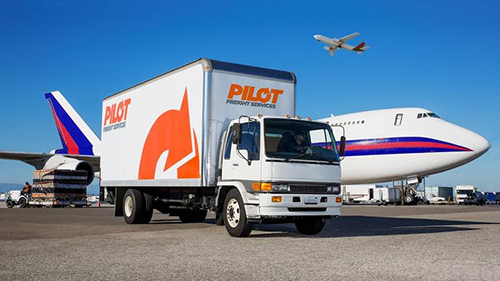 Pilot Freight Services
seek an
Air Gateway Manager
to work out of our
Chicago Gateway in Northlake, IL
. Working hours will fluctuate for this position.
Job Summary:
This position will be responsible for overseeing, coordinating, and managing the movement of shipments via Air. The ability to work and manage employees in a fast-paced, challenging environment is critical.
Job Summary: Plans, organizes, directs, and controls all air gateway operations. Responsible for air gateway performance while reporting to the Director of International Operations. Oversees all air gateway personnel functions as relating to pricing, shipments, reporting, and all other activities as needed or directed.
Responsibilities
Oversee and assist as needed with the coordinate of air export/import shipments by providing rates, booking (via e-mail, airline web-based bookings and telephone), and tracking.
Work closely with team members to meet or exceed all customer service requirements.
Develop and maintain positive internal customer (station and international partner) relationships.
Communicate effectively with stations, overseas partners, airlines and team members.
Accurate understanding of data and system entry.
Resolve customer service and vendor issues.
Involvement in and oversight of all aspects of air gateway operations
Ensuring adherence to all regulations, policies and procedures as required. This includes all safety regulations and requirements as well as federal, state, and local laws and ordinances.
Developing a business plan for the gateway's territory in conjunction with management.
Assisting with the hiring, training, and conducting regular performance reviews as needed for all air gateway employees.
Provides orientation and on-the-job training for subordinates and ensures authority and responsibility for each position are defined and understood.
Maintains appropriate communication within and is responsible for timely and regular field communications.
Assumes other activities and responsibilities as directed by the International Operations Director
Qualifications:
Position requires a multi-tasking individual with strong organization, leadership and management skills.
QualificationsBehaviorsLoyal:
Shows firm and constant support to a cause
Enthusiastic:
Shows intense and eager enjoyment and interest
Team Player:
Works well as a member of a group
Leader:
Inspires teammates to follow them
MotivationsAbility to Make an Impact:
Inspired to perform well by the ability to contribute to the success of a project or the organization
Self-Starter:
Inspired to perform without outside help
Education
High School or better.
SkillsPlanning
Intermediate
Managing People
Intermediate
Defining Performance Standards
Advanced
Coaching Skills
Intermediate
Analytical Skills
Advanced
Accuracy
Advanced
Ability to Work Under Pressure
Advanced
Experience
Thorough knowledge of global freight flow, international documentation, U.S. export processes, dock/warehouse, and maintaining excellent operational practices
Experience working with export control laws highly preferred
Sound administrative skills and well-developed management skills in principles and people