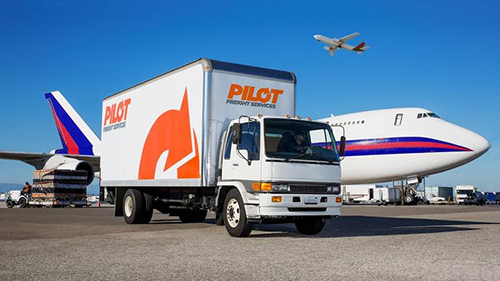 Pilot Freight Services
is seeking a full time
Customer Service 2 Agent
for our
Hawthorne, CA locationEssential Functions:
Answering of phones professionally and timely.
Answering and responding to e-mail requests timely.

Turn quotes around within 30 minutes.
Distribute customer/agent/station requests for follow up when needed.
Other requests needing attention but not limited to; customer returns, alternate phone numbers, address changes, dock check requests, hard copy POD requests, third party pickup requests, trace note requests.

Accurately complete entry of pickup/quote information.

Ensure routing/dispatch is aware of any special instructions/cut offs.

Tracking and tracing of shipments.

Communicating to customers and sales regarding issues.

Research of shipments for Corporate requests/reports.
Research of shipments for Accounting requests/reports.
Understanding TSA regulations.
Support other departments when needed (routing, dispatch, inbound).
Understand and accurately know how to use OAG, KSMS and other resources or tools provided.
Completion of specific assigned duties/accounts.
Able to work overtime and weekend on call rotations.
Other duties assigned deemed necessary by the Customer Service Supervisor.
SKILLS/COMPETENCIES
Must be able to type accurately at least 35 WPM.
Intermediate level Excel and Word.
Excellent written and verbal skills.
Ability to manage deadlines.
EDUCATION:
High School Diploma or equivalent.
Certifications, if applicable.
EXPERIENCE
2-years basic customer service experience and or 2-years of industry experience.
PHYSICAL REQUIREMENTS:
This is a clerical administrative position in a professional office setting. The employee is frequently required to sit, stand, walk, use hands, stoop, bend and reach. Extensive use of a phone and a PC is required. Position may require to work remotely at times.
TRAVEL:
WORK ENVIRONMENT & ADDITIONAL REQUIREMENTS:
The above information on this description has been designed to indicate the general nature and level of work performed by employees within this classification. It is not designed to contain or be interpreted as a comprehensive inventory of all duties, responsibilities and qualifications required of employees assigned to this job. Individuals may perform other duties as assigned including work in other areas to cover absences or relief to equalize peak work periods or otherwise balance the workload. For the warehouse locations, employee may be exposed to ambient weather conditions.