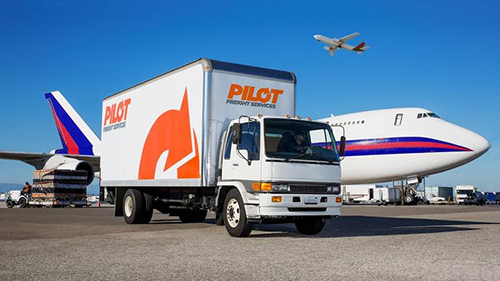 Pilot Freight Services
is seeking a
full time Global Operations Agent
for our
Hawthorne, CA location.JOB SUMMARY:
To be the primary interface between Pilot Freight Services, customers, sales, system operations, partners and vendors. To provide quality customer service, while meeting company policies and procedures.
Essential Functions:
Answering of phones professionally and timely.
Answering and responding to e-mail requests timely.
Quoting customers and overseas partners.
Updating Special Tracking and Accounting Reports for Customers.
Dispatching of shipments.

Ensure dispatch is aware of any special instructions/cut offs.

Interface with Customs Broker, Importer and Customer for Import Shipments.
Booking of air shipments with Pilot Gateway teams.

Confirming Known shipper via KSMS for air shipments.

Booking ocean shipment with co-loader and ocean carriers.
Label Air and Ocean Shipments.
Process DG shipments including checklist.
Filing of AES .
Accurately complete entry of pickup/quote information into Navigator.
Tracking and tracing of shipments.

Communicating to internal/external customers and sales regarding issues.
Update/notate tracking milestones.

Research of shipments for Corporate requests/reports.
Research of shipments for Accounting requests/reports.
Understanding TSA regulations.
Must research and respond to chargebacks and PN's timely.
Billing: closing out of shipments timely.

Including request of vendor invoices and selling rates.

Completion of specific assigned duties/accounts.
Able to work overtime and weekend on call rotations.
Export specific:

Must have DG certification to handle DG shipments.
Must have knowledge of airline regulations i.e. oversize, banding.

Import specific:

Must have knowledge of POA, customs brokerage regulations, DO, ISF.
Must have knowledge of working with air and ocean carriers.

Other duties assigned deemed necessary by the Global Ops Supervisor.
SKILLS/COMPETENCIES
Must be able to type accurately at least 35 WPM.
Basic computer knowledge including Word and Excel.
Excellent written and verbal skills.
Must be able to calculate chargeable weight and volume for all shipments.
Work with a sense of urgency, understanding how to prioritize.

Ability to manage deadlines.
Ability to work hands-on, handling multiple priorities simultaneously.
EDUCATION:
High School Diploma or equivalent.
Certifications, if applicable.

DG certification a plus and may be required.
EXPERIENCE
2-years of industry experience.
PHYSICAL REQUIREMENTS:
This is a clerical administrative position in a professional office setting. The employee is frequently required to sit, stand, walk, use hands, stoop, bend and reach. Extensive use of a phone and a PC is required. Position may require to work remotely at times.
TRAVEL:
WORK ENVIRONMENT & ADDITIONAL REQUIREMENTS:
The above information on this description has been designed to indicate the general nature and level of work performed by employees within this classification. It is not designed to contain or be interpreted as a comprehensive inventory of all duties, responsibilities and qualifications required of employees assigned to this job. Individuals may perform other duties as assigned including work in other areas to cover absences or relief to equalize peak work periods or otherwise balance the workload. For the warehouse locations, employee may be exposed to ambient weather conditions.