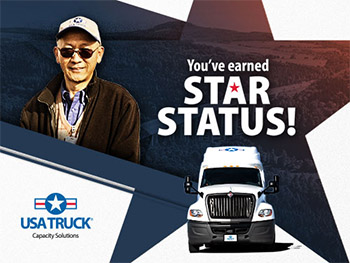 USA Truck CDL-A Driving Opportunities
Call a USA Truck Specialist today to find out more!
(866) 395-6755
CDL-A Driver Trainers: We've simplified your pay! Earn up to $110K!
At USA Truck, we are committed to a positive driver experience. That's why we listened to our drivers and revamped our CDL-A driver trainer pay package to make your decision to choose USA Truck simple! When you become a driver trainer, you immediately boost your pay while helping others achieve their career goals. There's never been a better time to join USA Truck!
As a USA Truck Driver Trainer, you will enjoy:
Base Pay – $0.10 cents per mile increase
Trainer Pay – $0.04 cents per miles anytime students are on the truck
Productivity Pay – Earn up to $0.04 cents per mile extra based on training miles logged
Student Retention Pay – Additional $0.01 cent per mile for each loaded mile your student completes during their first twelve months as a solo driver (call a recruiter additional qualifications)
Additional DRIVE USA advantages for Driver Trainers:
Drive Healthy – Medical, Dental, Vision Benefits
Drive Protected – Variety of insurance options for you & your family
Drive at Peace – Employee Assistance Program
Drive Retirement – 50% of first 4% match/employee stock ownership program
Drive Holiday – 7 paid holidays
Drive Vacation Time – Paid time off based on years of service
Drive Larger Paychecks – Enhanced Per Diem plan in 2021
Drive Furry – Pet-friendly company
Apply with USA Truck Today
If you have Tractor Trailer Experience,
fill out our
QUICK APP
form and a recruiter will contact you right away.
(866) 395-6755