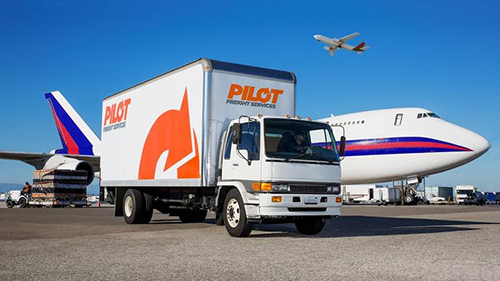 Pilot Freight Services
seeks an experienced full-time
Warehouse Agen
t to work at our site in
Noblesville, IN
for logistics customer. Hours - First shift, M-F
JOB SUMMARY:
The Warehouse Agent 1 is in charge of loading & unloading materials utilizing a hand truck, reach truck, or forklift. They are to maintain a clean and safe work environment and identify any discrepancies in receiving loads against manifest.
ESSENTIAL FUNCTIONS:
Utilizing manifest to pull route, stage freight, and assist Drivers to load and unload trucks
Material handling may include one or more of the following: picking, packing, scanning, kitting (as applicable), counting products and other like duties
Must ensure timeliness, packaging, and systems work is completed accurately
Safely operate warehouse equipment, such as forklift, pallet jacks, etc.
Read and follow detailed and defined instructions in a fast-paced environment
Ensure safe and secure work environment including all TSA and OSHA guidelines
SKILLS/COMPETENCIES:
Must be able to use forklifts, pallet jacks and banding/shrink wrap material
Experience using a RF scan gun required
Previous forklift certifications preferred
Must be able to work overtime as needed, occasional weekends
Must be able to read and comprehend work instructions well
Must have ability to work well with others
High attention to detail required
Must have ability to work well with others with little supervision
Must be able to lift 50+lbs. unassisted
Must be able to speak, read, and write in English
EDUCATION:
High School or equivalent required
EXPERIENCE:
Previous warehouse experience preferred - 1 years experience
QualificationsBehaviorsEnthusiastic:
Shows intense and eager enjoyment and interest
Detail Oriented:
Capable of carrying out a given task with all details necessary to get the task done well
Team Player:
Works well as a member of a group
MotivationsGrowth Opportunities:
Inspired to perform well by the chance to take on more responsibility
Flexibility:
Inspired to perform well when granted the ability to set your own schedule and goals
Self-Starter:
Inspired to perform without outside help
Education
GED or better.
High School or better.
SkillsUsing Computers
Novice
Ability to Work Under Pressure
Novice
Pallet Jack
Novice
EXCEL BASIC
Novice
Adaptability
Novice
Self-motivated
Novice

Effective August 18, 2021 Pilot will be mandating that all new hires are vaccinated against the COVID-19 virus before starting work at any of our locations.

Our definition of fully vaccinated for purposes of new hire is as follows:

In compliance with CDC guidelines, individuals will be considered fully vaccinated and eligible to begin work as follows:
2 weeks after their second dose in a 2-dose series, such as the Pfizer or Moderna vaccines, or
2 weeks after a single-dose vaccine, such as Johnson & Johnsonís Janssen vaccine