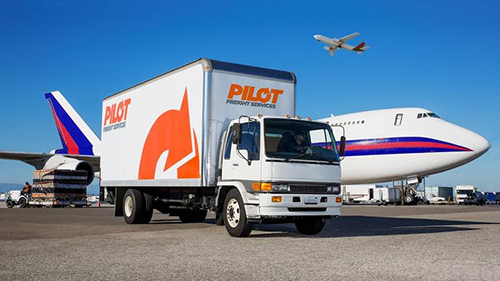 Pilot Freight Services
is seeking an Operations Coordinator to work at
our embedded Milwaukee, WI office
for a last mile home delivery customer.
The Home Delivery Operations Coordinator will report directly to the Embedded Solutions Operations Manager, but will work closely with several other team members throughout all stages of the local and regional delivery service.
Job Function:
Complete order routing
Solve customer service issues.
Assist the manager with daily planning and monitoring the over-all operations of delivery and return orders.
Thrive in a HIGH VOLUME HOME DELIVERY OPERATION.
Execute a prescribed process in the most efficient manner.
Must be able to contribute significantly customer service driven work place environment.
SKILLS/COMPETENCIES:
Detail Oriented
Excellent computer and communication skills
Able to multitask in a high-paced environment
Strong verbal and technical written communication
Highly organized and detail-oriented
Proficient in Microsoft Office Suite
Able to type 35+ wpm minimum
Comfortable multitasking and prioritizing tasks without guidance
Excellent time management
Ability to work under pressure
Technology Adaptability
Interpersonal Skills
Friendly and approachable personality
EDUCATION:
High School Diploma or equivalent required
EXPERIENCE
2+ years transportation routing/dispatching/warehouse preferred
PHYSICAL
REQUIREMENTS:
This is a clerical administrative position in a professional office setting. The employee is frequently required to sit. Occasionally stand, walk, use hands, stoop, bend and reach. Extensive use of a phone and a PC is required. Position may require to work remotely at times.
QualificationsBehaviorsEnthusiastic:
Shows intense and eager enjoyment and interest
Team Player:
Works well as a member of a group
Detail Oriented:
Capable of carrying out a given task with all details necessary to get the task done well
MotivationsFlexibility:
Inspired to perform well when granted the ability to set your own schedule and goals
Self-Starter:
Inspired to perform without outside help
SkillsEXCEL BASIC
Novice
MS Word
Novice
Proficiency in written & verbal communication
Intermediate

Effective August 18, 2021 Pilot will be mandating that all new hires are vaccinated against the COVID-19 virus before starting work at any of our locations.

Our definition of fully vaccinated for purposes of new hire is as follows:

In compliance with CDC guidelines, individuals will be considered fully vaccinated and eligible to begin work as follows:
2 weeks after their second dose in a 2-dose series, such as the Pfizer or Moderna vaccines, or
2 weeks after a single-dose vaccine, such as Johnson & Johnsonís Janssen vaccine