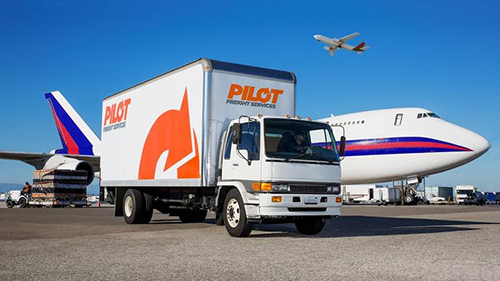 Pilot Freight Services
is seeking a
full time Dispatcher
to work for our
Richfield, OH Station
. The hours/days for this position may vary between Monday – Saturday and Monday – Sunday during busy and peak times.
JOB SUMMARY:
Directly in charge of scheduling drivers to make deliveries and pick up packages from customers and vendors. Also work as a liaison between customers, drivers, and management.
Essential Functions:
Answer incoming calls and provide excellent customer service to all callers
Monitor and respond to customer inquiries received through email
Make outgoing calls to follow-up on shipment status, resolve issues and update customers
Track, trace, enter and update shipments
Assist and support delivery teams and the dispatch team as needed
Master outside customer applications
Follow published procedures and work instructions and bring modifications to management's attention
Perform other duties as assigned
SKILLS/COMPETENCIES:
Excellent oral and written communication and problem-solving skills
Technological aptitude using the internet and on-line tools
High energy with the ability to multi-task
Excellent organizational skills with emphasis on detail
EDUCATION:
EXPERIENCE:
2 years customer service experience
PHYSICAL REQUIREMENTS:
This is a clerical administrative position in a professional office setting. The employee is frequently required to sit, stand, walk, use hands, stoop, bend and reach. Extensive use of a phone and a PC is required.
TRAVEL: WORK ENVIRONMENT & ADDITIONAL REQUIREMENTS:
The above information on this description has been designed to indicate the general nature and level of work performed by employees within this classification. It is not designed to contain or be interpreted as a comprehensive inventory of all duties, responsibilities and qualifications required of employees assigned to this job. Individuals may perform other duties as assigned including work in other areas to cover absences or relief to equalize peak work periods or otherwise balance the workload. For the NET, exposed to ambient weather conditions
Reviewed and agreed to by:
____________________________________ ________________
QualificationsBehaviorsDedicated:
Devoted to a task or purpose with loyalty or integrity
Team Player:
Works well as a member of a group
Detail Oriented:
Capable of carrying out a given task with all details necessary to get the task done well
MotivationsFlexibility:
Inspired to perform well when granted the ability to set your own schedule and goals
Ability to Make an Impact:
Inspired to perform well by the ability to contribute to the success of a project or the organization
Education
High School or better.
SkillsMS Word
Novice
Proficiency in written & verbal communication
Novice
EXCEL INTERMEDIATE
Intermediate
Customer service experience
Intermediate

Effective August 18, 2021 Pilot will be mandating that all new hires are vaccinated against the COVID-19 virus before starting work at any of our locations.

Our definition of fully vaccinated for purposes of new hire is as follows:

In compliance with CDC guidelines, individuals will be considered fully vaccinated and eligible to begin work as follows:
2 weeks after their second dose in a 2-dose series, such as the Pfizer or Moderna vaccines, or
2 weeks after a single-dose vaccine, such as Johnson & Johnsonís Janssen vaccine