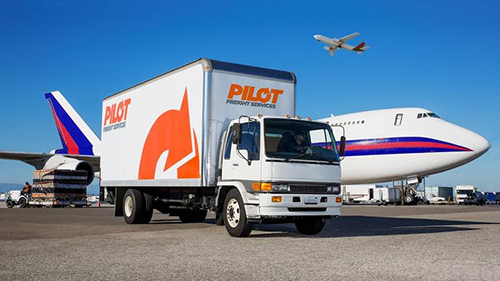 Pilot Freight Services
seeks a
full-time Warehouse Associate
for our
Gouldsboro, PA logistics facility
. This position loads and unloads materials within a warehouse facility and will utilize hand trucks, reach truck forklifts or other handling equipment to move material to and from trucks within the storage facility.
Responsibilities:
Material handling may include one or more of the following: picking, packing, scanning, kitting, counting products and other duties;
Must ensure timeliness, packaging, routing and systems work is completed accurately;
Read and follow detailed and defined instructions in a fast-paced environment;
Ensure safe work environment.
Qualifications:
Must possess a High School Diploma or equivalent;
2+ years of experience in a warehouse environment;
Prefer 1+ years of experience operating reach truck and sit down counterbalance forklift truck;
Experience using an RF scan gun required;
Previous forklift certification preferred;
Must be able to work overtime as needed, occasional weekends;
Must be able to read and comprehend work instructions well;
Must have the ability to work well with others with little supervision;
Basic computer and data entry skills;
Bilingual English/Spanish a plus!
Competitive wages and benefits package, including 401K. QualificationsBehaviorsTeam Player:
Works well as a member of a group
Loyal:
Shows firm and constant support to a cause
Functional Expert:
Considered a thought leader on a subject
Enthusiastic:
Shows intense and eager enjoyment and interest
Detail Oriented:
Capable of carrying out a given task with all details necessary to get the task done well
Dedicated:
Devoted to a task or purpose with loyalty or integrity
MotivationsGoal Completion:
Inspired to perform well by the completion of tasks
Job Security:
Inspired to perform well by the knowledge that your job is safe
Self-Starter:
Inspired to perform without outside help
Growth Opportunities:
Inspired to perform well by the chance to take on more responsibility
Flexibility:
Inspired to perform well when granted the ability to set your own schedule and goals
Ability to Make an Impact:
Inspired to perform well by the ability to contribute to the success of a project or the organization
Licenses & Certifications
Forklift Certified
SkillsHandtrucks
Advanced
Forklift
Advanced

Effective August 18, 2021 Pilot will be mandating that all new hires are vaccinated against the COVID-19 virus before starting work at any of our locations.

Our definition of fully vaccinated for purposes of new hire is as follows:

In compliance with CDC guidelines, individuals will be considered fully vaccinated and eligible to begin work as follows:
2 weeks after their second dose in a 2-dose series, such as the Pfizer or Moderna vaccines, or
2 weeks after a single-dose vaccine, such as Johnson & Johnsonís Janssen vaccine