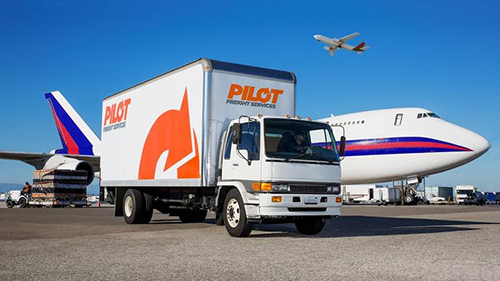 Pilot has the best employees in the transportation and logistics industry!
Essential Functions:
• Responsible for coordinating flow of communication between Haulers/Delivery Teams, Call Center Team and Store Management Teams.
• Develop contingency plans for variations in workflow, and implement as needed
• Provides on-site store presence on bi-weekly basis to ensure Haulers/Delivery
Teams/Flatbed Drivers are following procedures as detailed by client SOW.
• Identify business trends that could affect their region and respond accordingly
• Oversees recruiting, processing, and performance of Haulers.
• Develops and maintains relations with vendors.
• Ensures follow up on shipping discrepancies, damaged goods and in-home damage claims.
• Interfaces with end customers to ensure effective in-home delivery for customers.
• Work as a point of escalation for Managers
• Maintains monthly operating reports that include statistics and customer service scores.
• Attendance and Punctuality are essential functions of the job.
• Assists in interviewing and training of new hires as well as existing managers
• Travels to markets to assist with startups, coverage, recruiting
• Manages truck preventative maintenance
• Other duties may be assigned
Skills & Competencies:
LANGUAGE SKILLS-
Ability to read, analyze, and interpret common scientific and technical journals, financial reports,
and legal documents. Ability to respond to common inquiries or complaints from customers,
regulatory agencies, or members of the business community. Ability to effectively present
information to top management, public groups, and/or boards of directors.
MATHEMATICAL SKILLS-
Ability to calculate figures and amounts such as discounts, interest, commissions, proportions,
percentages, area, circumference, and volume.
REASONING ABILITY-
Ability to solve practical problems and deal with a variety of concrete variables in situations where
only limited standardization exists. Ability to interpret a variety of instructions furnished in written,
oral, diagram, or schedule form. Ability to define problems, collect data, establish facts, and draw
valid conclusions.
Additional Job Details :
Travel:
This position does not require travel
This position requires travel up to 20%
Education & Experience:
Bachelors Degree Preferred
OR
1-3 years of experience Within a corporate, multi-site department required
Physical Requirements:
While performing the duties of this job, the employee is regularly required to talk or hear. The
employee frequently is required to sit. The employee is occasionally required to stand; walk; use
hands to finger, handle, or feel; reach with hands and arms; climb or balance; and stoop, kneel,
crouch, or crawl. The employee must occasionally lift and/or move up to 25 pounds. Specific
vision abilities required by this job include close vision, and color vision. Position requires
on-call availability 24 hours a day, seven days a week.
WORK ENVIRONMENT & ADDITIONAL REQUIREMENTS:
The above information on this description has been designed to indicate the general nature and
level of work performed by employees within this classification. It is not designed to contain or
be interpreted as a comprehensive inventory of all duties, responsibilities and qualifications
required of employees assigned to this job. Individuals may perform other duties as assigned
including work in other areas to cover absences or relief to equalize peak work periods or
otherwise balance the workload. For the warehouse locations, employee may be exposed to
ambient weather conditions.
If you are interested in working with a talented, passionate and dedicated team of professionals in a rapidly growing industry, Pilot wants to hear from you!

Effective August 18, 2021 Pilot will be mandating that all new hires are vaccinated against the COVID-19 virus before starting work at any of our locations.

Our definition of fully vaccinated for purposes of new hire is as follows:

In compliance with CDC guidelines, individuals will be considered fully vaccinated and eligible to begin work as follows:
2 weeks after their second dose in a 2-dose series, such as the Pfizer or Moderna vaccines, or
2 weeks after a single-dose vaccine, such as Johnson & Johnsonís Janssen vaccine