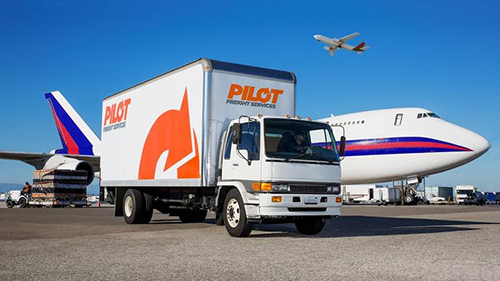 Pilot has the best employees in the transportation and logistics industry! Essential Functions:
Defines and delegates subordinate responsibilities, develops strategies to improve operational costs
Negotiates bids with brokers and asset based carriers to meet company savings objectives
Coordinates freight transfer activity from terminal to terminal
Develop and maintain cost efficient methods of operation. Insures customer satisfaction, a facility free of safety hazards, and proper performance of operational processes
Fosters an environment of continuous improvement
Communicates and enforces company policies, procedures and rules to employees
Provides advice, guidance, and assistance as needed
Recommends and approves increases or decrease in staff; screens and selects employees; approves long range departmental plans, work goals, and objectives and standards
Assists and evaluates the performance of employees' recommendations and approves expenditures, salary changes, promotions, transfers, changes in status and disciplinary action
Assigns work, trains, develops, and motivates employees
Communicates and administers personnel programs and procedures in accordance with approved policies
Other duties as requested
SKILLS/COMPETENCIES
Able to read, write and speak English
Knowledge of Terminal Operations
Deep understanding of business law, along with local, state and federal regulations
A high degree of computer software knowledge
Strong Interpersonal skills
Additional Job Details : EDUCATION:
A four year college degree preferred, but can be substituted with equivalent experience
EXPERIENCE
Five years of management experience required
Must be able to read/speak/write English
PHYSICAL REQUIREMENTS: This position requires standing and walking for extended periods of time. Position requires employees to frequently stoop, kneel, crouch, use hands, reach, bend and lift objects above their head. Employees must be able to regularly lift/move up to 50 pounds and use pallet jacks and forklifts. Position requires regular use of a phone and a PC and reading and writing of various shipping documents. If you are interested in working with a talented, passionate and dedicated team of professionals in a rapidly growing industry, Pilot wants to hear from you!

Effective August 18, 2021 Pilot will be mandating that all new hires are vaccinated against the COVID-19 virus before starting work at any of our locations.

Our definition of fully vaccinated for purposes of new hire is as follows:

In compliance with CDC guidelines, individuals will be considered fully vaccinated and eligible to begin work as follows:
2 weeks after their second dose in a 2-dose series, such as the Pfizer or Moderna vaccines, or
2 weeks after a single-dose vaccine, such as Johnson & Johnsonís Janssen vaccine