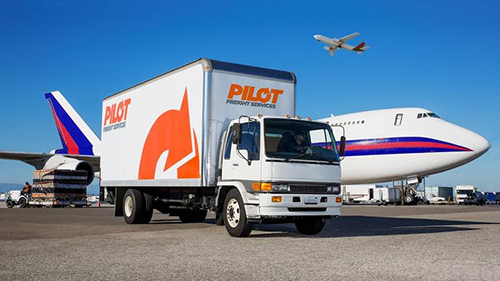 Pilot has the best employees in the transportation and logistics industry! Essential Functions:
Answering phones professionally and timely
Answering and responding to email requests timely
Quoting customers and overseas partners
Updating Special Tracking and Accounting Reports for Customers
Dispatching of shipments


Ensure dispatch is aware of any special instructions/cut offs

Interface with Customs Broker, Importer and Customer for Import Shipments
Booking of air shipments with Pilot Gateway teams


Confirming Known shipper via KSMS for air shipments

Booking ocean shipment with co-loader and ocean carriers
Label Air and Ocean Shipments
Process DG shipments including checklist
Filing of AES
Accurately complete entry of pickup/quote information into Navigator
Tracking and tracing of shipments


Communicating to internal/external customers and sales regarding issues
Update/notate tracking milestones

Research of shipments for Corporate requests/reports
Research of shipments for Accounting requests/reports
Understanding TSA regulations
Must research and respond to chargebacks and PN's timely
Billing: closing out of shipments timely


Including requests for vendor invoices and selling rates

Completion of specific assigned duties/accounts
Able to work overtime and weekend on call rotations
Export specific:


Must have DG certification to handle DG shipments
Must have knowledge of airline regulations i.e. oversize, banding

Import specific:


Must have knowledge of POA, customs brokerage regulations, DO, ISF
Must have knowledge of working with air and ocean carriers

Other duties assigned deemed necessary by the Global Ops Supervisor
SKILLS/COMPETENCIES:
Must be able to type accurately at least 35 WPM
Basic computer knowledge including Word and Excel
Excellent written and verbal skills
Must be able to calculate chargeable weight and volume for all shipments
Work with a sense of urgency, understanding how to prioritize
Ability to manage deadlines
Ability to work hands-on, handling multiple priorities simultaneously
Additional Job Details : EDUCATION:
High School Diploma or equivalent
Certifications, if applicable
EXPERIENCE:
2-years of industry experience
PHYSICAL REQUIREMENTS: This is a clerical administrative position in a professional office setting. The employee is frequently required to sit. Occasionally stand, walk, use hands, stoop, bend and reach. Extensive use of a phone and a PC is required. Position may require to work remotely at times. If you are interested in working with a talented, passionate and dedicated team of professionals in a rapidly growing industry, Pilot wants to hear from you!

Effective August 18, 2021 Pilot will be mandating that all new hires are vaccinated against the COVID-19 virus before starting work at any of our locations.

Our definition of fully vaccinated for purposes of new hire is as follows:

In compliance with CDC guidelines, individuals will be considered fully vaccinated and eligible to begin work as follows:
2 weeks after their second dose in a 2-dose series, such as the Pfizer or Moderna vaccines, or
2 weeks after a single-dose vaccine, such as Johnson & Johnsonís Janssen vaccine