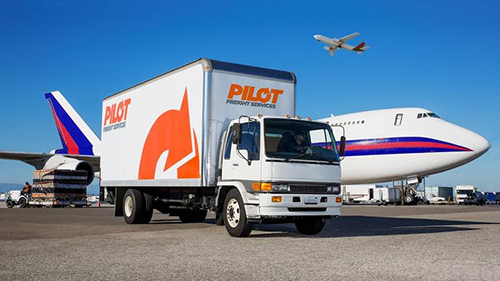 Pilot has the best employees in the transportation and logistics industry! Essential Functions:
Coordinate Air export shipments by providing rates, booking (via e-mail, airline web based bookings and telephone), and tracking
Coordinate with Warehouse Operations to ensure shipments are received and all documentation has been accounted for on a daily basis
Work closely with team members to meet or exceed all customer service requirements
Develop and maintain positive customer relationships
Communicate effectively with customers, overseas vendors, airlines and team members
Accurate understanding of data and system entry
Resolve customer service and vendor issues
Other duties as assigned
SKILLS/COMPETENCIES:
Must have Air Import / Export shipping experience
Excellent interpersonal communication skills with the ability to adapt to and work within a team environment
Superior attention to detail and problem-solving skills
Ability to prioritize work in a multi-tasked, fast-paced environment
Must be flexible with work hours
Proficient typing and PC skills required
The ability to read speak and write in English
Additional Job Details : EDUCATION:
High School Diploma or equivalent, and 1 years experience in an Air export position
EXPERIENCE:
Required 1-2 years: Air Export, airline relations
1-2 years: Customer Service
1-2 years: Working in fast paced environment
PHYSICAL REQUIREMENTS: This position requires standing and walking for extended periods of time. Position requires employees to frequently stoop, kneel, crouch, use hands, reach, bend and lift objects above their head. Employees must be able to regularly lift/move up to 50 pounds and use pallet jacks and forklifts. Position requires regular use of a phone and a PC and reading and writing of various shipping documents. If you are interested in working with a talented, passionate and dedicated team of professionals in a rapidly growing industry, Pilot wants to hear from you!

Effective August 18, 2021 Pilot will be mandating that all new hires are vaccinated against the COVID-19 virus before starting work at any of our locations.

Our definition of fully vaccinated for purposes of new hire is as follows:

In compliance with CDC guidelines, individuals will be considered fully vaccinated and eligible to begin work as follows:
2 weeks after their second dose in a 2-dose series, such as the Pfizer or Moderna vaccines, or
2 weeks after a single-dose vaccine, such as Johnson & Johnsonís Janssen vaccine