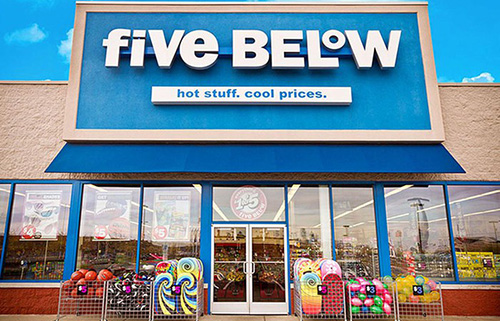 Shipping Manager


Founded in 2002, Five Below (NASDAQ: FIVE) is a rapidly growing specialty value retailer offering a broad range of trend-right, high-quality merchandise targeted at the teen and pre-teen customer. Five Below offers a dynamic, edited assortment of exciting products, all priced at $5 and below, including select brands and licensed merchandise across a number of category worlds: Style, Room, Sports, Tech, Crafts, Party, Candy and Seasonal (which we refer to as "Now"). Five Below's dynamic assortment of merchandise includes everything from sporting goods, games, fashion accessories and jewelry, to hobbies and collectibles, bath and body, candy, snacks and beverages, room décor, stationery and school supplies, books, cell/tablet accessories, novelty and "gag" items, and seasonal items. Five Below believes it is transforming the shopping experience of its target demographic with a unique merchandising strategy and high-energy retail concept that their customers consider fun and exciting.

Five Below has reinvented the traditional five-and-dime for today's younger generation, and has launched a new retail category. At Five Below, "Whatever You Got Will Buy A Lot."

As of 2013, Five Below's sales exceeded $500 Million with 330 stores in 19 states. We are experiencing tremendous success and growth. Our corporate offices are based in Center City Philadelphia.

Five Below was founded by David Schlessinger, creator and founder of Encore Books and Zany Brainy along with Tom Vellios, former CEO of Zany Brainy, and current CEO of Five Below.

Job Description

The Shipping Managers oversee shipping and receiving departments. Common duties include packing items for shipment, verifying the contents of received packages, monitoring subordinate employees, and ordering supplies. R for preparing departmental budgets, training personnel, reviewing invoices, and implementing security or safety programs.


Apply Below