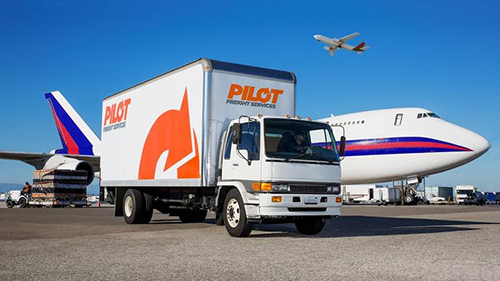 The Operations Account Manager reports directly to the department Operations Manager. The Operations Account Manager is responsible for managing the operational needs of their assigned accounts. Responsibilities include evaluating pricing and transportation options in order to provide exceptional customer service and operational excellence while supporting the Domestic Operations Department and its domestic clients.
Duties Include but Are Not Limited To:
Through a network of internal and external transportation suppliers, use company training and experience to determine the most efficient, cost effective, time sensitive process of providing the requested service.
Carry out assignments in conducting work for Pilot Freight Services and its clients, including evaluating multiple options regarding transportation; pricing, timing, availability, volume and other factors with frequent direction from management when appropriate.
Serve as the front-line communicator for customer and vendor disputes. Handle such complaints and resolve them using exceptional customer service to preserve customer satisfaction, vendor relationships, and company reputation. Use discretion when determining situations that need to be escalated to management.
Effectively manage multiple tasks and work under pressure to meet deadlines.
Proactively identify shipments at risk of service failure and take control of shipments to ensure on time delivery.
Develop and maintain a positive working relationship with service providers.
Work flexible hours.
Research all possible routings via airlines, line-haul, pick-up/delivery, scheduling, and geographic servicing. Utilize the most efficient and cost-effective routes.
Document all shipments with detailed trace notes and accurate data entry. Complete additional shipping documents as required. Thoroughly document all information for every shipment including special customer requests, documentation of agent specials, the assignment of special authorization numbers, ship tracing information and OS&D information. Maintain with accuracy, appropriate TSA and DOT documents including documents for the movement of Dangerous Goods.
Maintain on-time service integrity with a goal of 100% on time. Continually monitor and update shipments as defined by Pilot Freight Services management policies.
Be available for on call rotation when requested by management.
Communicate promptly and effectively any issues that place shipments in jeopardy with internal customers, external customers and service providers. Escalate issues to management when appropriate.
Per company policy, ensure 100% compliance with all TSA regulations regarding the Indirect Air Carrier Standard Security Program and Shipper's Security Endorsements.
Utilize current and developing Internet tracking applications to effectively update, communicate and monitor shipment status.
Assist local Sales Executives with pricing requests and quarterly business reviews.
Perform other duties as assigned.
#jil
QualificationsBehaviorsDetail Oriented:
Capable of carrying out a given task with all details necessary to get the task done well
Dedicated:
Devoted to a task or purpose with loyalty or integrity
Team Player:
Works well as a member of a group
MotivationsGoal Completion:
Inspired to perform well by the completion of tasks
Flexibility:
Inspired to perform well when granted the ability to set your own schedule and goals
Ability to Make an Impact:
Inspired to perform well by the ability to contribute to the success of a project or the organization
SkillsMS Office Suite
Intermediate
POWER POINT
Intermediate
MS Word
Intermediate
EXCEL INTERMEDIATE
Intermediate
Proficiency in written & verbal communication
Advanced
Customer service experience
Intermediate