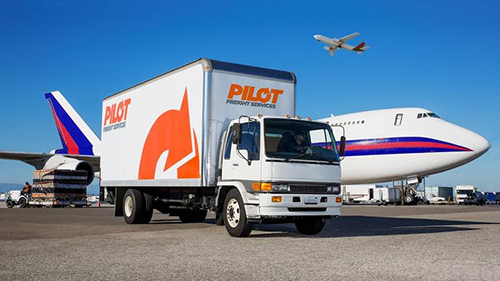 Pilot Freight Services
Global Transportation and Logistics Provider is seeking a
full-time District Manager
for our
Toronto, ONT, Canada
location. This is a hands-on management position.
Responsibilities:
Involvement in, and oversight of, all aspects of station operations and sales management
Preparation and development of a marketing and sales plan for the territory to develop business-to-business sales through a broad range of customers;
Training and overseeing the area's sales force.
Ensuring adherence to all regulations, policies and procedures as required. This includes all safety regulations and requirements as well as federal, state, and local laws and ordinances.
Attaining or exceeding overall revenue growth and profitability of the assigned territory.
Analyzing all fixed and variable costs to ensure maximum profitability is met as shown on the P&L.
Controlling costs such as: purchased transportation, labor, overtime, chargebacks, and facility costs.
Developing a business plan for the territory in conjunction with management.
Working with and developing business with National Account, International, Government, Transborder and all other staff and segments of the Pilot Air Freight.
Hiring, training, and administering all station staff; conducting regular performance reviews for all employees.
Developing yearly budget projections.
Monitoring IQ indices and implementing procedures to resolve areas below goals.
Qualifications:
Position requires a multi-tasking individual with strong organization, leadership and management skills;
Candidates must have a strong closing ability in order to sell to local accounts along with large scale national accounts at both domestic and international levels;
Must have strong written and verbal communication skills and strong computer skills;
Bachelor's Degree preferred or 5-10 years of transportation terminal management, as well as routing and operations experience are required;
Good working understanding of OSHA and TSA regulations and requirements a plus.
Excellent compensation package includes salary, incentive bonus plan, health insurance and 401K.
EOE/AA.
QualificationsEducation
Bachelors or better.
Licenses & Certifications
MS Office Suite
Experience5-10 years:
Transportation terminal management

Effective August 18, 2021 Pilot will be mandating that all new hires are vaccinated against the COVID-19 virus before starting work at any of our locations.

Our definition of fully vaccinated for purposes of new hire is as follows:

In compliance with CDC guidelines, individuals will be considered fully vaccinated and eligible to begin work as follows:
2 weeks after their second dose in a 2-dose series, such as the Pfizer or Moderna vaccines, or
2 weeks after a single-dose vaccine, such as Johnson & Johnsonís Janssen vaccine