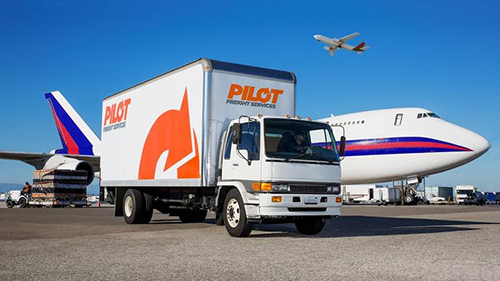 Pilot Freight Services
seeks a
Full time Warehouse Agent
to work in our Groveport, OH office. This position will be 40+ hours per week on varying shifts.
Responsibilities:
Obtains copy of manifest and bills of lading and transports material or equipment to and from designated areas in the facility
Loading and unloading goods from vehicles such as trucks or trailers
Moving goods packed on pallets or in crates, or loose material around the storage facility
Stacking goods in the correct staging areas, following good handling practices
Checking loads are secure
Stacking empty pallets
Performing daily equipment checks such as checking the oil and inspecting the truck's battery and lubricating equipment
Removing and adding machine attachments
Examining products to verify conformance to quality standards
Keeping a clean and safe work environment
Participating in housekeeping duties
Other duties as assigned by supervision
Qualifications:
High School diploma or equivalent
Good math, language and reading skills; basic computer skills may be required
High degree of attention required to prevent injury to others; promote a safe work environment
Follow instructions for operating equipment and keeping records
Execute assignments in an accurate, timely and safe manner
Maintain a clean & safe environment
May be required to use RF scanner gun
Forklift certification per OSHA standards
Physical demands and abilities:
Regularly sitting on a powered industrial truck
Frequently lift up to 70 pounds and adjust body position to bend, stoop, stand, walk, turn, pivot, and stand for long periods of time
Having a good sense of balance
Having good eye-hand-foot coordination
Ability to assess weights and judge distances and heights
Ability to work in varying temperatures, depending upon season
QualificationsEducation
High School or better.

Effective August 18, 2021 Pilot will be mandating that all new hires are vaccinated against the COVID-19 virus before starting work at any of our locations.

Our definition of fully vaccinated for purposes of new hire is as follows:

In compliance with CDC guidelines, individuals will be considered fully vaccinated and eligible to begin work as follows:
2 weeks after their second dose in a 2-dose series, such as the Pfizer or Moderna vaccines, or
2 weeks after a single-dose vaccine, such as Johnson & Johnsonís Janssen vaccine