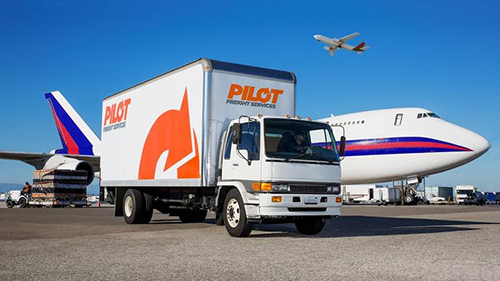 Pilot has the best employees in the transportation and logistics industry! Essential Functions
Provides coaching and guidance for business management to provide solutions for performance management, talent management, succession planning, and employee development.
Builds performance management capabilities by coaching leaders to effectively address performance issues and deliver effective feedback.
Demonstrates a thorough knowledge base, consistent time management skills, and strong organizational skills to provide an effective consultative partnership with business management.
Utilizes formal and informal feedback from business management to drive human capital decisions and demonstrate measurable value to the organization.
Promotes highly effective relationships within assigned business unit(s) with operations management, recruiting resources, HR peers, locally and nationally, to share accountability and provide valued support for achieving business goals.
Regularly collaborates with the Corporate HR team on the effectiveness of HR processes within the assigned business unit for HR review, necessary approvals and potential modifications needed.
Follows up on employees' training needs to produce continuous development plans; provides on-going feedback and support to improve performance.
Coaches management regarding best practices implementation of compliance procedures (e.g., reasonable accommodation, safety, etc.) to comply with federal, state, and local regulations and support focus on diversity.
Collaborates with Talent Acquisition, L&D and Generalists to identify employee skill gaps and support implementation of employee development plans and learning interventions.
Oversees time management compliance to ensure that all employees are paid properly weekly. Follows up on unapproved timesheets, PTO, final pay and any other needs by coordinating with Payroll.
Conducts exit interviews for voluntary separations, at the site and remotely, to learn where improvements can be made and works with management and/or Corporate HR to address any concerns.
Monitors and evaluates employee turnover and employee feedback channels to identify opportunities to optimize the employee experience and improve engagement and retention.
Leads orientation for new hires and assists with any onboarding questions.
Reviews performance evaluations in a consistent, fair, and objective manner to encourage continuous performance improvement and fairness in upward mobility and career development.
Skills and Competencies
Designs/Develops Integrated Solutions to Business Problems: Demonstrates a basic understanding of a business problem; recommends a solution to solve the business problem.
Health and Safety Knowledge: Demonstrates basic knowledge of injury and crash prevention techniques; demonstrates a basic understanding of job methods; identifies root causes of injuries and auto crashes; recognizes and reports unsafe working conditions.
Labor and Employment Law Knowledge: Describes broad purpose of labor and employment laws, such as sexual harassment, protected characteristics, and has a basic understanding of traditional labor legislation; demonstrates an ability to identify general instances of discrimination and other non-compliant employment practices.
Talent Acquisition: Describes talent acquisition practices; assists in selection and hiring of employees; demonstrates awareness of employment specific laws and regulations. Assists with onboarding of all new hires.
Benefits: Understanding of open enrollment, leaves of absence, workers' compensation, ADA accommodations and FMLA.
Additional Job Details : Education and Experience
Bachelor's Degree in Human Resource Management or similar
Minimum of 3 years' exempt level human resources assignments, or minimum of six years practical human resource assignments
Demonstrated ability to meet deadlines and manage multiple projects simultaneously
Demonstrated leadership in implementing and executing HR goals and initiatives
Experience influencing leaders in a fast-paced environment and the interpersonal savvy required to drive human resource strategies and programs
Proven ability to interpret and analyze processing outputs, recognize errors
Demonstrated ability in the use of information system technology to improve operational processes
Proficient in Microsoft Office, including strong Excel skills
Excellent written and verbal communication skills
PHYSICAL REQUIREMENTS:
This is an administrative position in a professional office setting. The employee is frequently required to sit. Occasionally stand, walk, use hands, stoop, bend and reach. Extensive use of a phone and PC is required. Position may require to work remotely.
Travel
Frequent local travel, occasional travel regionally as well as potentially one to two trips to the corporate office in Glen Mills, PA
If you are interested in working with a talented, passionate and dedicated team of professionals in a rapidly growing industry, Pilot wants to hear from you!

Effective August 18, 2021 Pilot will be mandating that all new hires are vaccinated against the COVID-19 virus before starting work at any of our locations.

Our definition of fully vaccinated for purposes of new hire is as follows:

In compliance with CDC guidelines, individuals will be considered fully vaccinated and eligible to begin work as follows:
2 weeks after their second dose in a 2-dose series, such as the Pfizer or Moderna vaccines, or
2 weeks after a single-dose vaccine, such as Johnson & Johnsonís Janssen vaccine