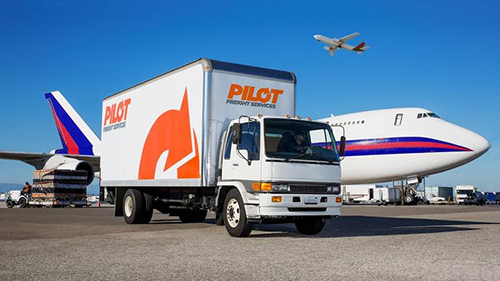 Pilot has the best employees in the transportation and logistics industry! Essential Functions:
Communicating with customers and vendors about freight details, pickup and drop-off times, and special requests
Planning predetermined routes for drivers
Identifying traffic problems and issues and creating appropriate corrective action plans to achieve desirable results on time.
Preparing general dispatch documents for management, as well as pulling any documents that employees, customers, or vendors will need
Maintain a record of all dispatch calls, driver routes, route changes, as well as delivery times
Logging vendor complaints or concerns
Answering phone calls from vendors, customers, and management and helping them as needed.
Other duties as requested
SKILLS/COMPETENCIES:
Strong aptitude for time management
Ability to make quick changes in routing
Strong interpersonal skills
Ability to prioritize and multitask
Good understanding of computer software and technologies
Able to read, write and speak English
Strong time management, active listening, strong oral communication, strong knowledge in logistics, ability to multitask, considerable monitoring ability, strong attention to detail, and ability to prioritize tasks.
De-escalating customers
Assisting drivers on the road with looking for an address or with issues while in customers home.
Keep an eye on the teams assigned to you doing their routes so that you can identify any teams running late or early. Late/early calls are required.
Strong in Follow up and communicating with customers.
Someone who takes initiatives to learn and works well under pressure/fast paced environment.
AMAZING attendance is required.
JOB REQUIRES:
Documentation
Data entry
Calling/Answering phones
Listening and verbal communication
High energy level
Dependability
Multi-tasking
Emotional Control
Reporting
Additional Job Details : EDUCATION: EXPERIENCE :
2-3 years of freight dispatching experience is highly valued
PHYSICAL REQUIREMENTS: This is a clerical administrative position in a professional office setting. The employee is frequently required to sit. Occasionally stand, walk, use hands, stoop, bend and reach. Extensive use of a phone and a PC is required. Position may require to work remotely at times. If you are interested in working with a talented, passionate and dedicated team of professionals in a rapidly growing industry, Pilot wants to hear from you!

Effective August 18, 2021 Pilot will be mandating that all new hires are vaccinated against the COVID-19 virus before starting work at any of our locations.

Our definition of fully vaccinated for purposes of new hire is as follows:

In compliance with CDC guidelines, individuals will be considered fully vaccinated and eligible to begin work as follows:
2 weeks after their second dose in a 2-dose series, such as the Pfizer or Moderna vaccines, or
2 weeks after a single-dose vaccine, such as Johnson & Johnsonís Janssen vaccine