Home
Posted November 13, 2020
Logistics and Supply Chain Jobs in High Demand for the 2020 Holiday Season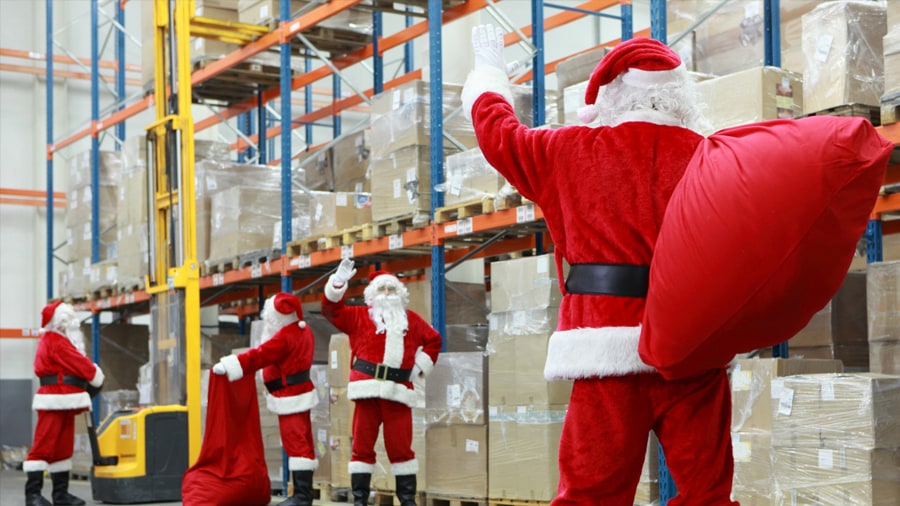 As this unprecedented year concludes with no end in sight for the coronavirus pandemic, the holiday season is sure to look a little different this year. Typically, retailers would be preparing for their busiest season of the year by holding large hiring events and hiring hundreds of seasonal workers to stock shelves, wrap gifts and assist customers well ahead of Black Friday. However, with more consumers likely to be staying home this year due to the pandemic, shopping behavior will shift and so must retailers' hiring behavior. E-commerce is expected to grow exponentially as more people shop for gifts from the comfort of their homes and retailers are focused on shifting from hiring seasonal in-store retail workers to hiring more Warehouse Workers and Fulfillment Specialists, Shipping and Receiving Associates, Home Delivery Drivers as well as Inventory Clerks and Managers to ensure they are equipped for the influx of online orders. Employers are already looking to fill these positions quickly with qualified candidates. For anyone looking to pick up a seasonal position and earn some extra holiday cash, these positions are guaranteed to be in high demand.
With concerns about overwhelming the supply chain demand and ensuring consumers get their orders in a timely fashion, employers will be looking to majorly ramp up warehouse positions across the board. Warehouse Workers, Fulfillment Specialists and Shipping and Receiving Associates will all be a huge need for companies this season, even more so than usual. These roles are responsible for a wide array of job duties in the warehouse. Warehouse Workers generally are tasked with duties such as receiving incoming stock, picking, filling and shipping orders, organizing inventory and much more. Fulfillment Specialists are critical for picking orders and ensuring they get fulfilled and are off for shipping as quickly as possible, while Shipping and Receiving Associates handle outgoing shipments to consumers, as well as receiving incoming shipments of inventory and materials. E-commerce also tends to see a much higher rate of return for purchased products compared to brick-and-mortar stores, which is another reason why employers will need more warehouse workers to receive and process these returns. All these positions are crucial to a retailer's success in getting product out to the consumer. Many employers will be offering generous incentives to fill these roles, as well as providing personal protective equipment such as gloves, masks and hand sanitizer to keep employees safe.
Home Delivery Drivers will also be a hot job this holiday season, as parcel delivery companies as well as retailers themselves look for ways to distribute products efficiently and prevent a bottle-neck situation that will delay packages and potentially leave customers disappointed. The holiday season already brings challenges for parcel delivery companies such as FedEx, UPS and USPS as people everywhere order and send gifts to their loved ones. This year will be a much more exaggerated version of their busy season, with a major switch to primarily (and for a lot of people, exclusively) online shopping. This upward trend of online shopping can easily cause chaos and delays as parcel companies struggle to keep up, so they have been looking ahead to try and anticipate these challenges. Home Delivery Drivers provide the last mile delivery of products directly to the consumers' homes, and will find a multitude of opportunities at these parcel delivery companies that will no doubt be ramping up their hiring, as well as for large retailers that have their own delivery network and hire drivers directly.
Other crucial positions for this holiday season will be Inventory Clerks and Managers. Of course, for all the moving parts of the supply chain and delivery network to function, retailers must have enough inventory stocked and organized in the most efficient way. Typically, retailers carefully balance their inventory to accommodate the shoppers buying gifts online and those who prefer to shop in-store. However, that balance has been completely upended by the pandemic, and more inventory will need to be allocated to warehouses that will be used to fulfill the flood of online orders. In order to prevent a backlog of orders and large crowds of shoppers for Black Friday, many retailers are starting Black Friday early and spreading it across the whole month, which will bring a drastic difference in preparation when it comes to inventory levels. Inventory Clerks and Managers will be the backbone of these processes, working to maintain and manage all inventory within the warehouses, tracking materials and products that come in to the warehouse and those that go out to consumers, analyzing daily product and supply levels and making sure they are fully stocked and prepared for the busiest time of year. This process involves intricate inventory tracking systems and will be made even more elaborate to accommodate elevated inventory standards.
The coronavirus pandemic will undoubtedly shake up this holiday season and will likely even impact future holiday seasons and shopping trends. As consumers mostly stay home and shop for gifts online, people looking for seasonal employment may be disappointed to find out that retailers simply will not require as much of the extra in-person help that they typically do. However, there will be plenty of new opportunities arising for Warehouse Workers, Fulfillment Specialists, Shipping and Receiving Associates, Home Delivery Drivers, Inventory Clerks and Inventory Managers. Retailers are going to depend on these employees to get them through the 2020 holiday season, and many have already started their hiring. In order to fill all these vacancies, many companies are also offering generous sign on bonuses and increased hourly pay. E-commerce has already been on the rise over the last several years, and the pandemic has compounded that exponentially. Going into the holiday season this year, employers are racing to meet this new demand and are shifting their approaches to how they handle every aspect of their supply chain networks, a change that may be more permanent than previously believed. Hundreds of thousands of new jobs will be created in the logistics and supply chain industry, with many turning into permanent, full time positions. Start your job search today on JobsInLogistics.com, where hundreds of new positions are posted daily.