Home
Posted May 15th, 2021
Despite Salary Decreases, Logistics Management Annual Survey Shows Confidence in Rebound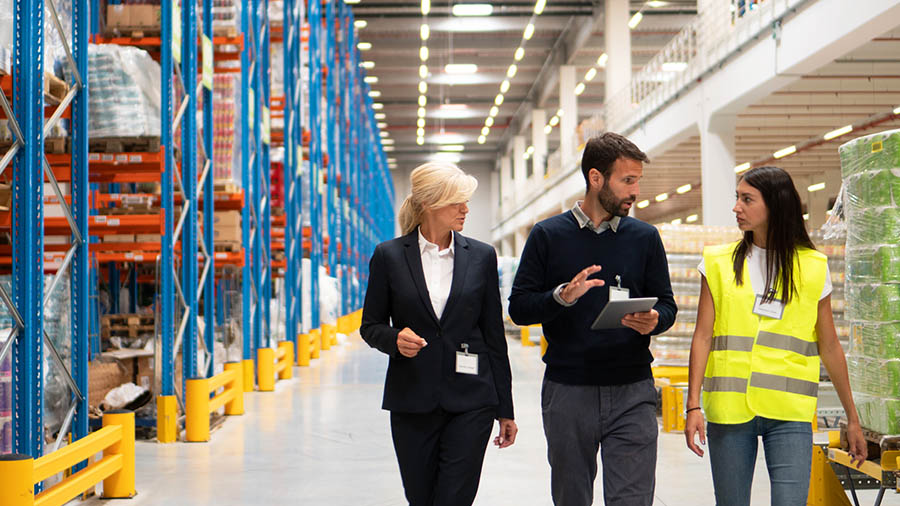 While the logistics industry has been crucial to getting us through the devastating Covid-19 pandemic, there were a lot of logistics professionals who found themselves furloughed or out of work entirely in the past year. Because of this, along with increased unemployment benefits and government relief checks, it's no surprise that some logistics-related careers have taken a hit salary-wise in 2021. Still, some have continued to trend upwards. Logistics Management and Peerless Research Group (PRG) conducted their 37th Annual Salary Survey among nearly 400 logistics professionals, finding that almost half of the respondents reported increased salaries, and only 9% experienced a decrease. For such a tumultuous year, these decreases aren't so bad with all things considered, and most respondents "remained upbeat about the future," according to Logistics Management.
The declines in salaries can be a result of various factors, but most, if not all, are Covid-19 related. In a year that brought changes to all areas of our lives and a worldwide pandemic that greatly shifted consumer and overall human behavior, it's no wonder that the logistics industry and those who work in it were affected. Due to shutdowns and budget decreases, a lot of companies had to lower or phase out bonuses and commissions, lower starting salaries, lower or eliminate annual salary increases, make pay cuts, and even furlough or lay off some employees. Now, more than a year after Covid-19 was officially declared a pandemic, the logistics industry is on the rebound, with more responsibility and demand than ever before. Supply chains have become more evolved to handle the increased demand nationwide and will need to hire a myriad of positions to keep up. Logistics roles are in high demand, but PRG's data showed that only 5% of respondents were actively searching for a new role, so companies will need to offer top salaries and benefits packages that include bonuses to attract the best talent.
Among different logistics-related job titles, Logistics Management and PRG found that salaries have mostly decreased in 2021, with the exception of Distribution Directors/Managers, who have seen an increase. In 2020, the average salary for this title was reported at $103,435, and in 2021 it has jumped to $107,167, an increase of about 3.61%. Distribution Directors and Managers are crucial in ensuring that distribution performance goals are met, and inventory is managed in a way that allows for the most efficiency. E-commerce and home delivery of household goods grew exponentially over the last year, and people under these titles were faced with making sure their operations matched the pace.
Respondents of Logistics Management's survey that reported the biggest salary decrease were those that held titles of Operations Managers/Directors, with a decrease of about 9.46%, Warehouse Managers/Supervisors with a decrease of about 6.03%, and Logistics Managers/Directors with a decrease of about 5.64%. The job titles that were the least affected by salary cuts were Purchasing and Procurement Directors and Managers, who experience a decrease of about 2.51%, Engineering Management, which decreased by about 2.46%, Corporate Division Management which decreased by 1.35%, and, as previously mentioned, Distribution Directors and Managers, who actually reported an increase.
Other job titles that reported salary decreases included VP/General Managers, Supply Chain Directors/Managers and Sales positions, who reported decreases between 3% and 5%. Despite these salary reductions, most respondents seemed confident that there would be a rebound, acknowledging that this has been an atypical year.
Logistics Management's survey also found that the number of functions performed by the survey respondents has increased over the past 2-3 years. As the industry continues to evolve to become more practical and efficient, this trend is likely to continue moving that way. Supply chains typically run smoother when a holistic approach is taken, so it's not surprising that respondents reported having more functions under their job titles than before.
Even though these findings seem to show that logistics employees are doing more for less pay, career satisfaction remains high in the industry, with PRG reporting that 44% of respondents feel "very satisfied" and 45% feel "somewhat satisfied." This can likely be attributed to the fact that the logistics industry offers a stable and rewarding career path, with great room for advancement, as well as a sense of accomplishment that could stem from society finally recognizing just how vital the industry is. It's important to note as well that 71% of the survey's respondents were age 45 and over, which could shed additional insight into those career satisfaction findings; a lot of these respondents are industry veterans who have been able to climb up the ladder in their careers and gain a sense of fulfillment.
After a tumultuous year, the logistics industry has come out stronger than ever before, with more complex and efficient practices that will spearhead the future of the industry. While Logistics Management and PRG's findings show lower salaries across most logistics-related job titles, their study also reflected great confidence in a rebound that will propel those salaries higher than pre-pandemic levels. It is no doubt that the industry is more vital than ever and will continue to flourish and evolve. With the high demand for logistics management roles and the relatively low amount of people actively searching for such roles, employers will be offering competitive salaries and comprehensive benefits to attract the best candidates. Whether you are a veteran looking to change up your career path or have just graduated and are looking to join this lucrative industry, JobsInLogistics posts new jobs every day with top employers. Begin your search today!