Home
Posted May 10, 2022
Supply Chain Salaries See Strong Rebound in Logistics Management's Annual Survey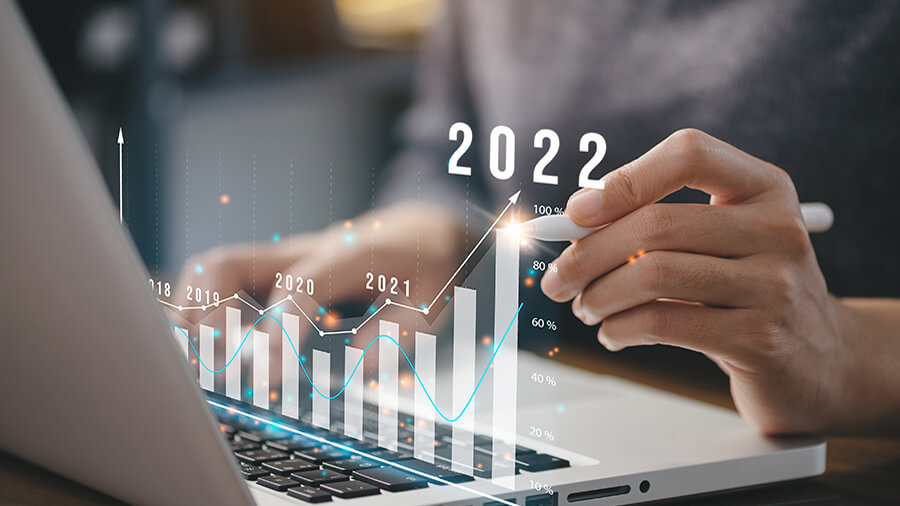 After seeing a decrease in 2021, salaries for logistics professionals have increased across the board over the past year, bouncing back to roughly the same levels that were reported in 2020, according to Logistics Management's 38th Annual Salary Survey conducted by Peerless Research Group (PRG). The survey had nearly 300 respondents, of which 64% reported that their salary level had increased, and only 4% reported a decrease. After witnessing a drop in salary ranges for a majority of logistics and supply chain careers last year, it is encouraging for current and aspiring logistics professionals to see those climb back up to pre-pandemic levels. However, the logistics and supply chain industry has faced numerous challenges as of late, ranging from shutdowns and employee shortages to rising labor and supply costs. Because of these challenges, many logistics operations are still having a hard time hiring and retaining employees, despite salary increases and hiring incentives.
Compared to last year's survey results, logistics and supply chain professionals reported almost a 12% increase in their salaries on average. This year's average salary was $126,215, which is much improved from 2021's average of $112,779 and roughly equivalent to 2020's average of $126,475. The survey had 286 respondents this year comprised of logistics professionals of different ages and genders, working in different geographical locations and with various job titles, job functions, and years of experience. While these factors undoubtedly influence salary ranges, the overall averages showed an upward trend.
The majority of respondents were between the ages of 35 and 64, with 8% of respondents being over the age of 65 and 13% of respondents being under the age of 35. The age range that saw the biggest increase in average salary was ages 55-64 with about a 10% increase, followed by respondents aged 45 to 54, who reported an increase of about 5%. These findings reflect the clear correlation between increased age and tenure with an increased salary. With 80% male respondents and 20% female, there was a clear gender pay gap evident in the results, with men reporting an average salary of $123,550 and women reporting their average salary as $89,500. The data collected represents logistics professionals living in various regions in North America. The area that reported the highest average earnings was New England, with an average salary of $117,200, and the lowest earning region was the South, with an average salary of $96,800.
As logistics operations continue to evolve to keep up with increased demand, employee shortages and other challenges, the number of functions that employees perform as part of their roles have increased over the last 2 to 3 years. The demand for logistics professionals is at an all-time-high, but the supply has not matched its pace, meaning some roles have had to take on additional tasks that may have been handled by a different role in the past. The study showed that 72% of respondents saw an increase in the number of functions under their role, with 26% reporting the number of functions stayed the same and just 2% reporting a decrease. With the industry moving towards a more holistic approach in supply chain operations, this trend is likely to continue in years to come.
When looking at salary by job title, Logistics Management's study found that the highest salaries were attributed to VPs and General Managers, with an average of $208,350, which is an increase of about 5.85% from last year. Other titles that experienced significant increases from their salaries in 2021 include Transportation Managers/Directors with a 7.39% increase and Supply Chain Directors/Managers with a 4.78% increase. Despite reporting a decreased salary in 2022, Corporate/Divisional Managers still reported the second-highest salary in the study, just behind VPs and GMs, with an average of $176,100. Given the cruciality of the responsibilities under these titles, it is unsurprising to see the highest salaries are theirs. Managers and directors are vital in ensuring, at a high level, that supply chain operations run smoothly and efficiently.
After taking a significant hit to their salaries in 2021, logistics professionals are officially on the rebound. The industry has faced so many challenges in the past few years, which continue to arise, so seeing an increase across the board for all different kinds of logistics-related positions is a much-needed encouragement for the industry overall. Facing increased e-commerce demand, supply chain shortages, worker retention challenges and more, the logistics industry will continue to evolve to solve these problems and ensure a strong future. Logistics professionals of all kinds are in high demand in today's labor market, and logistics companies are offering higher salaries, better benefits and perks and other incentives in order to attract and retain top talent. Whether you are looking to break into the industry or are a logistics professional looking to move towards a different role that better suits you, find your next position on JobsInLogistics.com, where new career opportunities are posted daily!